With a WLAN connection, multiple microphones and speakers, as well as plenty of computing power, your mobile phone has everything a modern smart speaker needs. You can turn your smartphone into an Echo speaker in no time and use the Amazon Alexa language assistant on your cell phone. You rely on one of the most common language assistants, which is compatible with numerous smart home devices.
Table of Contents
For a long time, you always had to tap your finger on the screen to use the free Alexa app to issue one of many voice commands. However, with the "Hands Free" function, this is no longer necessary. You can activate voice recognition by yelling "Alexa" without having to interact with your phone. In the following instructions, we explain step by step how you can use Alexa on your smartphone. On some smartphones, including Xiaomi Mi 10T, Mi 10T Pro, Mi 10T Lite, Redmi Note 9 Pro and Redmi Note 9S smartphones, you can use Handsfree even when the screen is off.
With Alexa on your phone, you even have some advantages over current Amazon Echo speakers. For example, you're not tethered to plugs and you can even access Alexa on the go over the mobile network. If you want to sit back and relax while you learn, just watch the instructional video below:
If that was too fast for you, we have again prepared the step-by-step instructions for you with images and instruction texts. Get started by downloading the free Alexa app, but just read for yourself:
Step 1: Download the Alexa app
Because first of all you have to download the Alexa app on your phone. The app is available for free for both Android and Apple iOS:
The two links take you directly to the respective app store for your device. If you are not yet too familiar with installing the app, we have prepared the individual steps for you with pictures.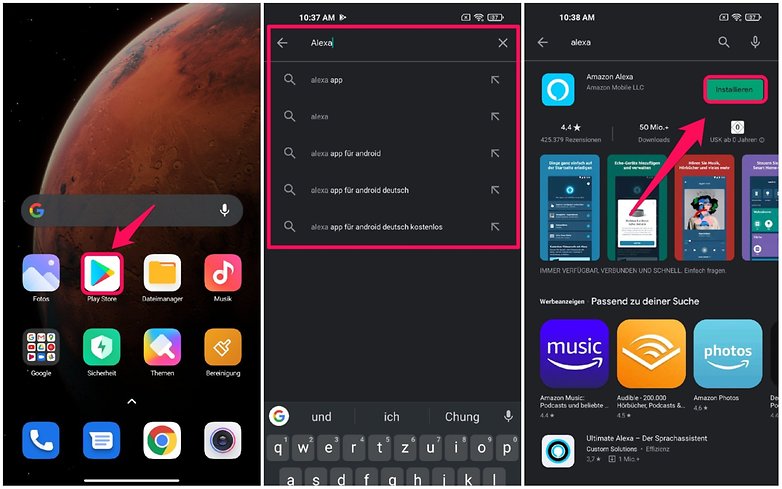 Control the app store of your choice
Search for the keyword "Alexa" here and navigate to the entry that comes from Amazon itself.
Click Install and the free Alexa app will be installed on your device
You will then find the Alexa app on your home screen or in the app drawer. To prepare for the next step, you can sign in to your Amazon account in the app at this point. Don't have an Amazon account yet? You can then create it directly in the app or on the linked page.
Step 2 – Create a voice profile to activate Alexa on demand
Once you've logged into the Alexa app and granted the necessary permissions, you'll land on the app's home screen. From here, we now need to navigate to settings and create a voice profile while enabling Hands Free. On images, this works as follows: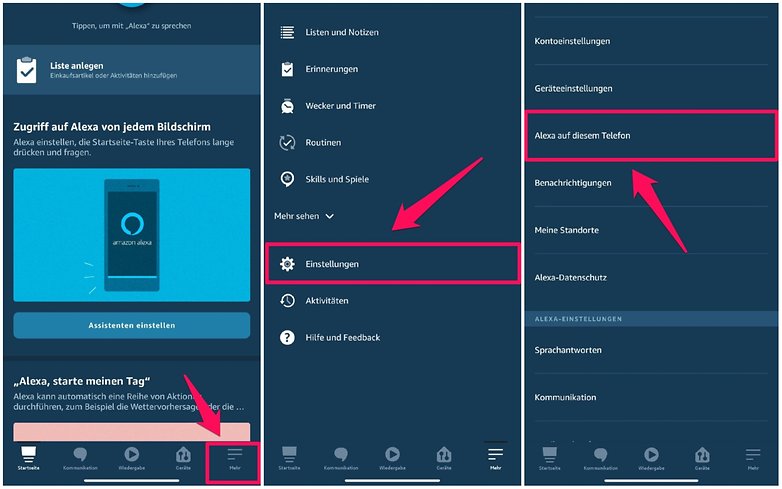 Select the "More" menu item at the bottom of the screen
Now you control the Alexa app settings
Select the "Alexa on this phone" menu item.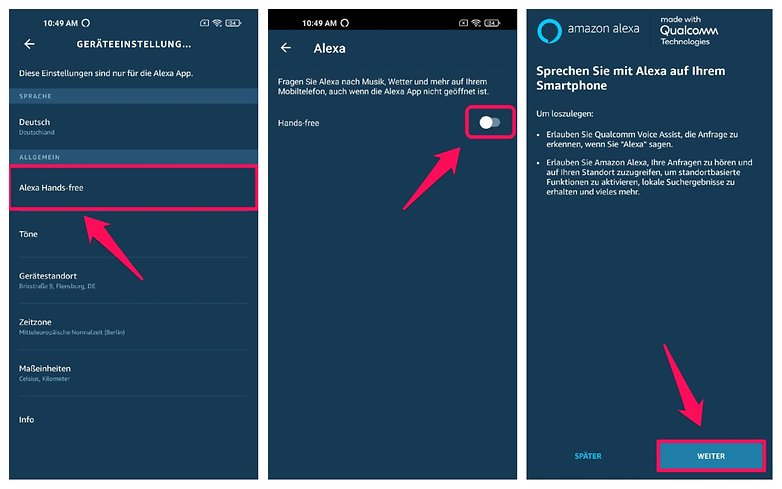 Go to the "Alexa Hands-Free" menu item in your phone's Alexa settings
Drag the slider to the right or touch it
Select the "Next" button on the next menu item
If necessary, allow the Alexa app to access your microphone and location
Then follow the instructions on the screen to create a voice profile
You have now created the basic requirements for using Alexa on demand with your smartphone. If you don't want to use Alexa from standby, you can skip the following steps and at the end of these instructions you will find information about the options that Alexa offers you.
Step 3: Activate Alexa hands-free even from standby
If you have chosen to wake from standby, this option will already be displayed on the screen. Again, you can compare your mobile phone screen with the following pictures.
Danger: Wake on standby does not yet work on all smartphones. Supported devices include Xiaomi Mi 10T, Mi 10T Pro, Mi 10T Lite, Redmi Note 9 Pro, and Redmi Note 9S smartphones. With Redmi series devices, you must update the mobile software before performing the following steps. You can read how this works later in this guide.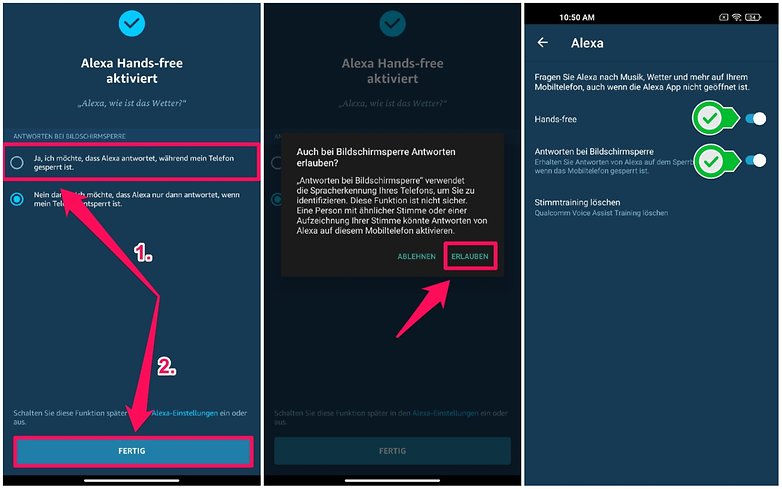 Select "Yes, I want Alexa to answer while my phone is locked." and tap on "Done"
Now you should allow unlock from standby mode again
You control the menu from step 2 again to check if both sliders are now activated
Then try it! Turn off your phone screen and turn on Alexa with the keyword "Alexa"
You cannot currently assign a different keyword to Alexa on your smartphone. This is currently reserved for Echo speakers only. Also, you may not be able to find the menu items in step 3 on your mobile phone. This is because unlocking from sleep only works on some phones and on some compatible devices only after a software update.
This is how you take your Xiaomi cell phone to the latest version of Android
Checking for updates on Redmi Note 9S and Redmi Note 9 Pro is easy. If you are using another Android smartphone, the procedure is similar, but the steps are slightly different from the following images.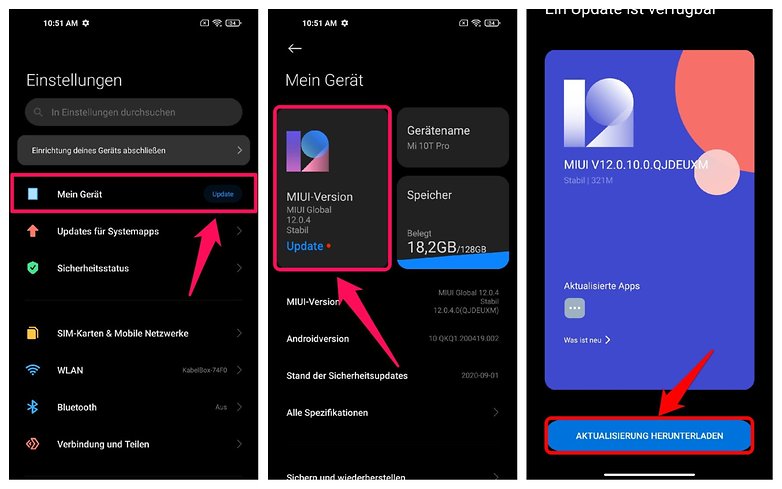 Take back control of your mobile phone settings
Here you will find the entry "My device", where an update can already be indicated
Controls the tile at the top left where you can check for updates
Now select the entry "Download update"
Then go back to step 2 to activate standby wakeup
After the update, the points that we show you in the instructions should be available. To find out if the activation worked, you can simply call Alexa. More information on using Amazon Alexa hands-free can be found on the linked page on Amazon. But what can you do with the language assistant?
Alexa has not only become a voice assistant since the years of its creation. The Alexa cosmos is more like smart home standards like Google Home or Apple HomeKit, because Alexa blends entertainment, everyday tasks, and productivity. For example, when buying smart home products, you can make sure they are compatible with Amazon Alexa, and then integrate the purchased device into your home network.
The Alexa app then serves as a trusted control center for your smart home. With the cry "Alexa" and a subsequent voice command, you activate smart lamps like the Xiaomi Mi Bedside Lamp, for example. So you no longer have to search for light switches in the dark, you can simply "Alexa, Xiaomi Mi Bedside Lamp on!" in the dark. The lamp will already illuminate your room.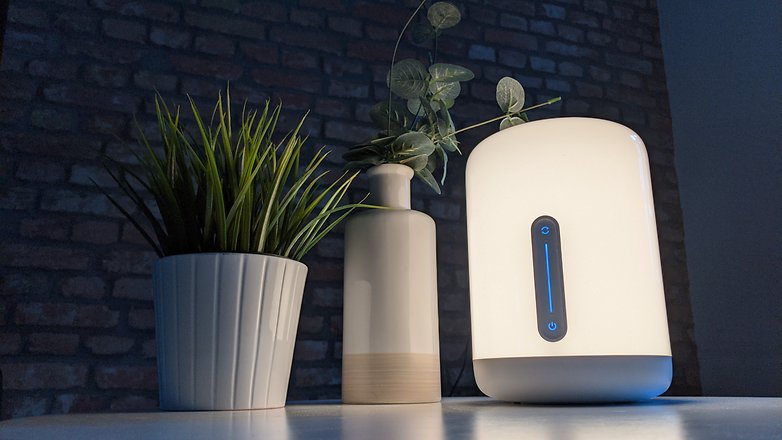 But Alexa isn't just a remote for smart home devices. In itself, the hands-free Alexa app on your cell phone is a practical helper in everyday life. To get you started, we've rounded up 20 fun and practical Alexa commands that you can use, for example, to set a timer or alarm and ask about the weather. So just say, "Alexa,…
… wake me up with "Morning has Broken" by Cat Stevens at 8 o'clock
… set a timer for 10 minutes.
… how many calories does a Snickers have?
… Wash the dishes!
… ask for new toilet paper.
… dim the light of my Xiaomi Mi Bedside Lamp.
… sends the Roborock S5 Max into the void.
… how will the weather be tomorrow?
… add an appointment on December 24 to my calendar.
… what is the answer to everything?
… what is the binomial formula?
… call Grandma!
… Your mother!!
… What is your favorite book?
… Tell me a joke!
… what sound does a dove make?
… how do you like Siri?
… read a Christmas story
… activate self-destruct.
… thank you for existing!
In the meantime, you have probably already tried many other commands on your Alexa-enabled mobile phone. Let us know what your favorite Alexa command is and how you find hands-free functionality on your phone in the comments.
This article was made possible through a partnership with Xiaomi and features the product placement of the Xiaomi Mi Bedside Lamp 2 and Xiaomi Mi 10T Pro devices. The exact content of the article was not influenced by the partnership.