The "back tap" gesture has been around on iPhones for quite some time. Android makers have tried their best to replicate the feature, but most devices still lack the feature. The "TapTap Flashlight" app brings them to your Android phone, at least in a limited way. And that is more practical than initially thought!
---
TapTap Flashlight is a free app that turns the back of your smartphone into a button
Works on all Android devices running Android 7 or higher
The app does not contain ads
---
When my colleague Antoine Engels wrote his guide on how to create touch-back shortcuts on MIUI smartphones, I immediately wanted to copy it to my Xiaomi Redmi Note 9 Pro. I was able to find the function! Because Xiaomi limits support to a few devices, and the same applies to other Android manufacturers.
I was almost ready to write another comment about how Xiaomi neglects its customers. Instead, getting over my wounded pride, I began searching the Internet for an alternative. Lo and behold, I found an app that can emulate this feature… to some extent.
How TapTap flashlight works
The TapTap Flashlight app is based on open source code that is used to emulate the feature. The app allows you to turn on the flashlight without pressing any buttons. All you have to do is tap the back of your smartphone twice.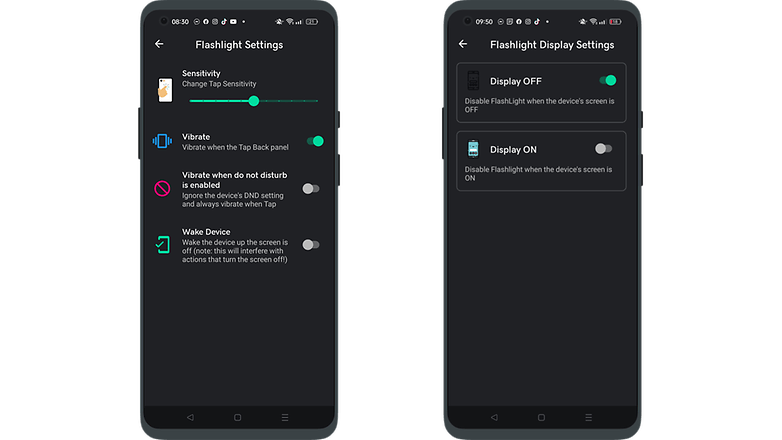 As already mentioned, the app works on all Android phones starting from Android 7. At least that's what the developer claims. I tested it with two devices, one running Android 11 and one running Android 12, and it worked almost perfectly (more on that below).
I've found TapTap Flashlight to be very useful because when I normally need my flashlight, say for a quick trip to the bathroom late at night, I don't have time to unlock my device and scroll through menus. So the app brings a very intuitive shortcut to your phone, but everything is clearly explained in the app itself.
Also free for 1 month: Waipu.tv
Almost 170 TV channels on up to 5 devices simultaneously
To set them up, you basically need to allow the app to use your device's accessibility features. To do this, simply press the "accessibility services", which takes you to the corresponding settings menu. There you will see a list of applications that you can activate. Select TapTap Flashlight and unlock the application. You will be asked to confirm the unlock, since the application theoretically uses the content of your screen can read and that's it!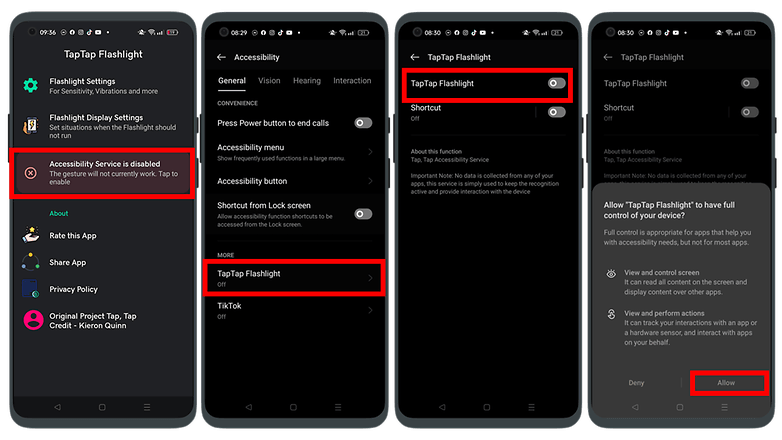 You can further optimize app reliability by disabling battery optimization for that particular app, but be aware that doing so may decrease your phone's battery life. However, in the week I used the feature, I didn't notice any noticeable changes. Also, you can adjust the touch sensitivity to work even when the screen is off or vibrate every time you use the gesture successfully.
The only bug I found was that the gesture sometimes didn't work when the device was idle for a long time. On my Oppo Find X5 I simply restarted the app, while on my Xiaomi (where the error was more common) I had to turn the app off and on again in the settings.
Is it safe to use TapTap Flashlight?
Most apps for additional buttons or gestures require caution! However, I have not encountered any such issues with TapTap Flashlight. In the privacy policy, the developer Gaurav Saxena states that the app is free and does not collect any personal data. All the information that is collected comes from third party libraries used for the application, such as FireBase Analytics.
A closer look at the app through the Exodus platform confirms these claims. TapTap Flashlight has two Google crawlers and requires nine permissions. That's quite a lot, but on closer inspection, the permissions dovetail nicely with the app's functionality.
Did you like this trick? Do you know other gesture apps that make your life easier? Share them with us in the comments!