Even if we like to ignore it in everyday use: With a modern smartphone, we carry a device with us 24 hours a day that would suck the butter out of many secret organizations of the past. With multiple microphones, a meter-accurate location sensor, an ultra-fast connection to a worldwide network, and cameras on the front and back, countless data can be obtained from smartphones. But what if we don't use these capabilities for covert surveillance, but for protection?
The provider Spyic pursues this goal and promises to enable smartphone tracking without jailbreak or rooting. Therefore, there is no loss of warranty and no risk of damaging a smartphone when unlocking it. However, after registration, the precise location of the meter, the display of call lists and other functions should be possible. However, before going into the possibilities of the service, a brief digression on the legal requirements is required.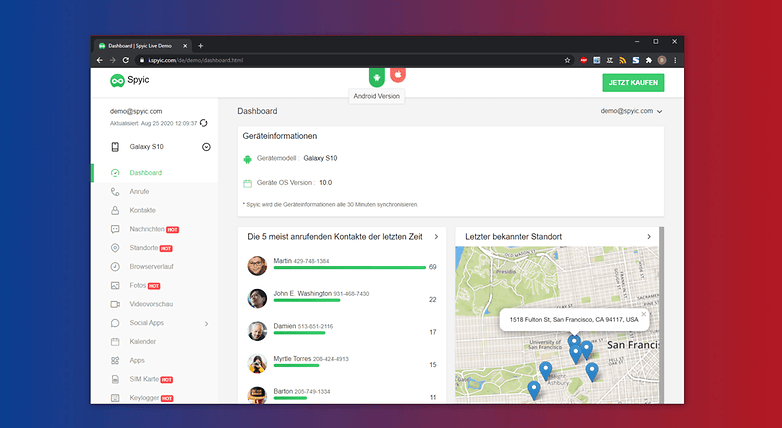 Who can track whom and how exactly?
Because far from all technical possibilities, the tracking of people via mobile phones in Germany is subject to strict regulations. Basically, smartphones with a SIM card inserted could be tracked through the mobile network for a long time. Location was pretty inaccurate, but the only prerequisites for location access were a SIM card inserted and flight mode turned off. Since there are now much more accurate methods of locating via WLAN and GPS, many mobile network operators are disabling the GSM tracking service.
Location detection via GPS or via public and private Wi-Fi networks is much more accurate and is used by navigation applications such as Google Maps, for example. According to German law it is not prohibited to locate your own smartphone, of course, but it is different for strangers.
According to the Telecommunications Law, the transmission of location data to third parties requires the express, separate and written authorization of the person to be located. At the same time, the person whose smartphone is being located must be informed of this via text message each time the location is accessed. This does not necessarily apply to children whose parents want to carry out the placement to protect the welfare of the child.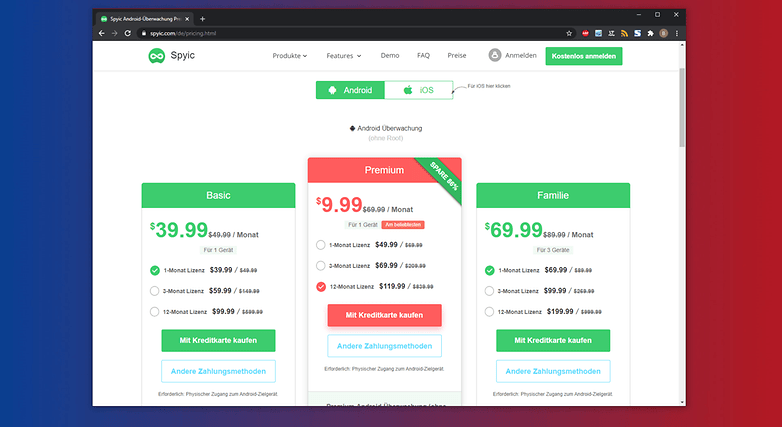 Here parents move in the dark gray field of tension between data protection, intellectual property rights and the duty of care to parents. Although children also have the right to informational self-determination, parental obligations often take precedence in disputes when children are still minors. By reading personal messages such as WhatsApp conversations or emails, you also run the risk of violating the personal rights of those affected.
Parents should also educate their children when installing a location tracker app. That makes a lot of sense just for trust reasons. In the case of older people or adults as employees, the law still requires written permission. It is never advisable to secretly equip your partner's smartphone with a spy app for ethical, relationship-related and legal reasons.
Spyic brings these possibilities
Especially when using Spyic, you should always keep these basic requirements in mind. In addition to tracking, the platform's range of features also includes access to call list, contacts, messages, browser history and various social media applications. In principle, a keylogger, ie software that records keystrokes, can also be used. Therefore, violations of personal rights and the provisions of the Telecommunications Law are possible at any time.
However, the range of functions is very good for comprehensive protection of children, in consultation with company employees, or for monitoring your own smartphone. On Android, Spyic features are also available without root, except for Facebook, Instagram, Snapchat, and Gmail. Rooting on Android means giving yourself the highest user rights on the operating system. By doing so, you open up some new possibilities, but at the same time you forfeit a warranty in many cases.
In Apple iOS, the counterpart of rooting is called "jailbreak" and here too you risk damaging the expensive smartphone. Spyic offers features like access to contacts, call history, WhatsApp data, location, calendar entries and messages without jailbreak. Advanced features like viewing Instagram messages require a prior jailbreak. Another difference between iOS and Android is that Spyic only requires access to the device on one of the two operating systems.
This is how Spyic setup works
Because Spyic is configured on Android through a free application that reaches the smartphone through an APK file. As with Windows or macOS, you need to upload a file to your mobile phone through the browser and perform the installation after activating the installation from third-party sources.
On iOS, on the other hand, Spyic needs Apple iCloud access from the user whose smartphone is to be monitored. After creating a Spyic account, you need to disable two-factor authentication and enter iCloud credentials on the Spyic platform. The information can be viewed through the Spyic online platform on both iOS and Android. The app can be uninstalled again without a trace on both platforms. The installed app can be hidden on Android after installation.
How expensive is Spyic?
The use of Spyic is always associated with costs, there is no free trial phase of more than one month and no limited offer. However, you can cut costs by opting for a longer-term subscription from the start. Furthermore, the provider divides its costs into three different packages and there are also price differences between iOS and Android.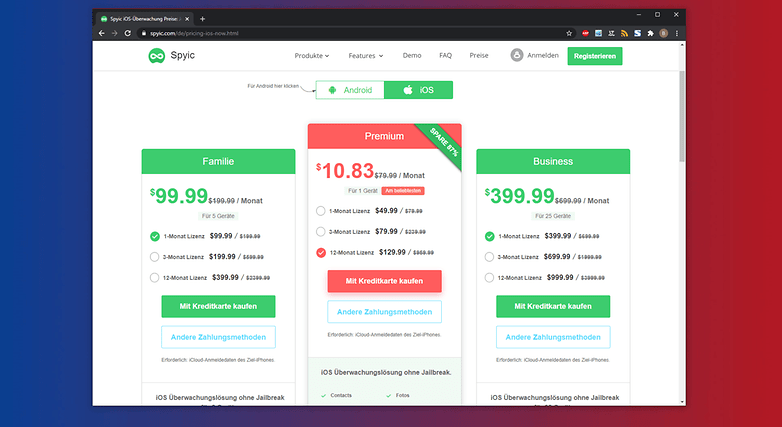 The range of features varies between basic and premium, the family subscription is basically premium access for up to three devices. In the cheapest basic package, the range of functions is limited to call lists, SMS and MMS, locations, contact lists, browsing history, bookmarks, photos and videos. Currently you pay 39.99 US dollars for this under Android with a term of one month, that is, the equivalent of almost 34 euros. The premium subscription costs $49.99 (just under €40) and the family subscription costs US$69.99 or €60.
The limited basic subscription does not apply to Apple iOS. This is where you can get started with the premium subscription for currently $49.99 or just under €42 per month. Alternatively, you can choose between a family subscription for US$99.99 or €85 with access for 5 devices or the business subscription for 25 devices with a monthly cost of US$399.99 or €340. Since prices are always discounted, you should check the Spyic home page again for current costs.
Various credit cards and PayPal are available as payment methods. Spyic claims that account statements always show the name of the developer and not "Spyic". For refunds, you must contact the developers via the contact form within 10 days.
conclusion
Spyic is a powerful smartphone monitoring provider that is surprisingly non-invasive on Android and iOS. Monitored smartphones with root or jailbreak access provide only a few advantages, the most important features are also possible. Under Android, the cheapest option is to use the very limited basic package with an annual subscription. A single payment of just under 85 euros must be made. With Apple iOS, the cheapest entry is through the premium subscription in an annual subscription for the equivalent of 110 euros.
With the full range of features, highly sensitive data can be read on both iPhone and Android, which can save lives in some situations. For example, if a child doesn't come home after school, their smartphone's location can be read in real time with meter accuracy if location services are turned on. If location services are turned off, GSM location will initially help with at least an approximate area. Spyic also gives parents important tools to protect them from Internet criminals by viewing chat histories and typed messages.
Unfortunately, it is also obvious that these options are also available for jealous partners or other forms of abuse. Here the responsibility lies with the users, who ultimately have to answer in court for the violation of personal rights. Spyic itself is apparently aware of this danger, because the service protects itself against misuse of the platform in its disclaimer.
This article was created in cooperation with the software manufacturer. This does not affect the opinion expressed in this article about the usefulness of the software. Since this is not a community article, the comment feature has also been disabled.