You know? Do you take the smartphone in your hand, stretch out your arm and want to put yourself and all your friends in the picture? As soon as everyone is positioned, the following problem arises: How do I get to the fire button now? So you don't lose your smartphone, we'll show you how to take a hands-free selfie.
To section:
Hands-free selfies with Huawei
Huawei smartphones offer numerous options for taking selfies and photos with the main camera without physically pressing the release button. In the camera settings (gear symbol at the top right) you will find…
smile photo
gesture control
control sound

"Cheese" as a trigger word
The smile and voice recognition worked fine and turned on reliably, but the hand gesture failed for some unknown reason. Unless set otherwise, your Huawei will immediately take a selfie if it sees one of the criteria is met. So if there are four of you standing in front of the selfie camera and using one of the hands-free triggers, you can look forward to multiple snaps at once. Because every recognized smile carries a photo. After all: you can choose the best one from the huge number of subsequent selfies.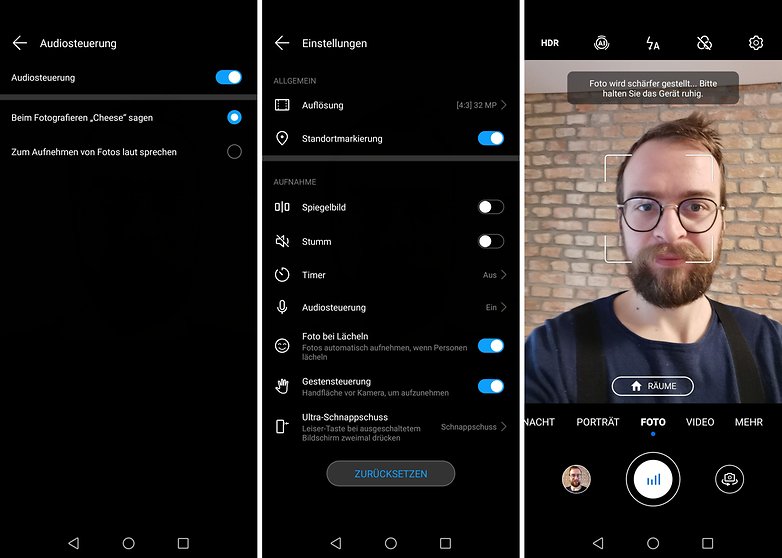 Hands-free selfies with Samsung
At Samsung you will find similar options. Voice control can even distinguish between photo and video, so you trigger a video recording directly if you want. However, if you activate your selfie with the palm gesture, the Samsung smartphone waits two more seconds. In these, you can move your hand out of the image area.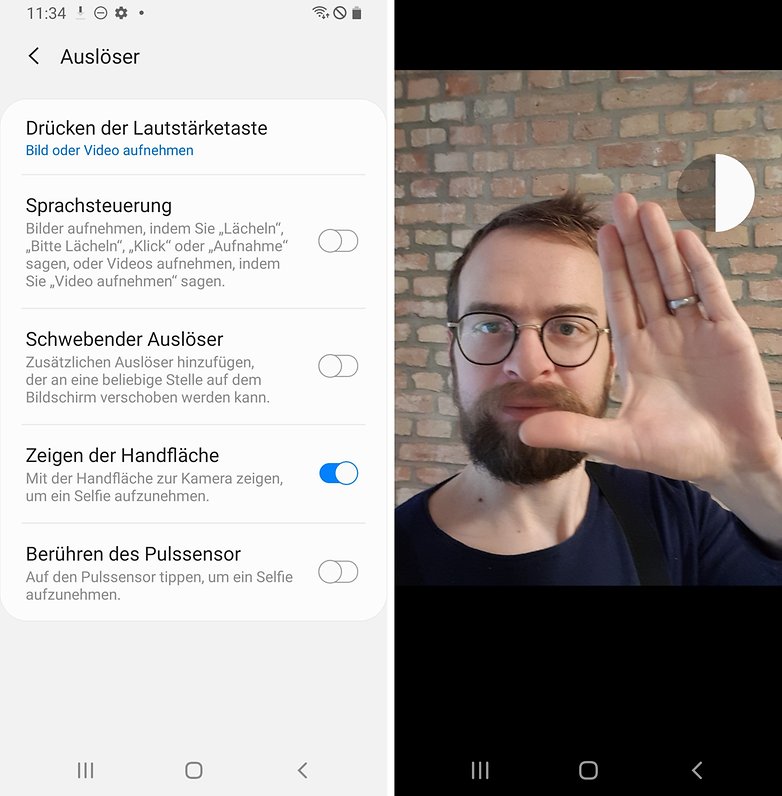 Samsung does without error-prone smile recognition. Instead, it offers two additional options: On Galaxy S and Note devices, you can use the heart rate monitor on the back as a trigger. And on all devices you can place an additional activation button anywhere on the screen. Maybe you can find a position where you can safely hold your smartphone and press the shutter button. Also, the S Pen acts as a remote shutter release on Galaxy Note devices like the Galaxy Note 10. To do this, simply remove the S Pen from the case and press the shutter button with the camera app open.
One-handed shutter on all smartphones
Maybe your smartphone doesn't have clever software tricks like the ones shown above up its sleeve. However, there are methods to trigger selfies more conveniently than with the inconveniently placed button. Almost all manufacturers have configured the volume buttons as physical fire buttons. Give it a try: Most of the time you can press the "Quieter" side of the volume rocker in selfie mode and activate the camera with it. Some devices can even be configured so that one side shoots photos and the other side shoots videos.
alternatives
self timer
Smartphones from all manufacturers also offer a timer function for the shutter release. So you can press the button and then have two or five seconds to position the camera for the perfect selfie. Unfortunately, this method is particularly difficult, since it is rarely possible to achieve an accurate landing in time.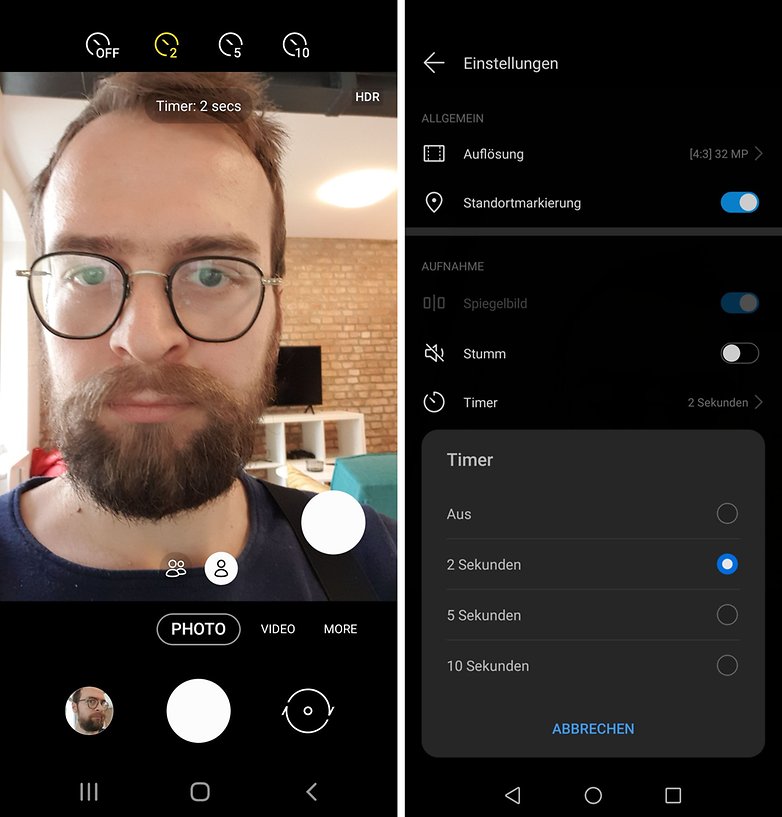 selfie accessories
In 2014, selfie sticks were a big thing. Its functionality relied heavily on the previously mentioned quirk that almost all smartphone manufacturers set the volume buttons as a shutter release. Selfie sticks simply plugged into the smartphone jack and pretended to press this button.
The problem in this story should be familiar to you: new smartphones no longer have a jack connection. Selfie sticks of this type are logically electronic waste. By the way, you can find probably the best quiz on the subject of selfie sticks on Forbes; there are also Bluetooth-enabled devices that still work with today's smartphones.
If the stick is too bulky, there's also a remote shutter release for smartphones. You can buy them on Amazon for only seven euros with shipping included.
conclusion
While the drone pictured above never came to fruition, the selfie issues shown in the video remained. If you want to get even more out of your smartphone photos, you might want to take a look at our corresponding article: