But first of all we must point out that the screenshots and some points in this article are not transferable to all Android smartphones. Because although many mobile phones use the Android operating system, manufacturers configure their own interfaces and setup wizards with their own designs and their own range of functions. However, you can follow the steps below and simply ask questions on our forum or in the comments.
For an overview, we have divided this text into three steps:
before turning on
the first installation
Get started with Android
When you first unpack your cell phone, you will usually find it with a partially charged battery. The battery charge is usually enough to set up the mobile phone, but you should check the charge level just before transferring data. Alternatively, you can simply hang the cell phone from the socket to set it up to make sure the battery doesn't die on the first day. At the same time, you can use your cell phone directly, regardless of the power supply.
Before setting up the operating system, you must also insert your SIM card. If you look in the box of your new mobile, here you will find a small tool with which you can insert the SIM card. Look for a small hole in the phone surrounded by a larger notch. Insert the SIM card tool into the small hole and the SIM card slider should pop out of the device.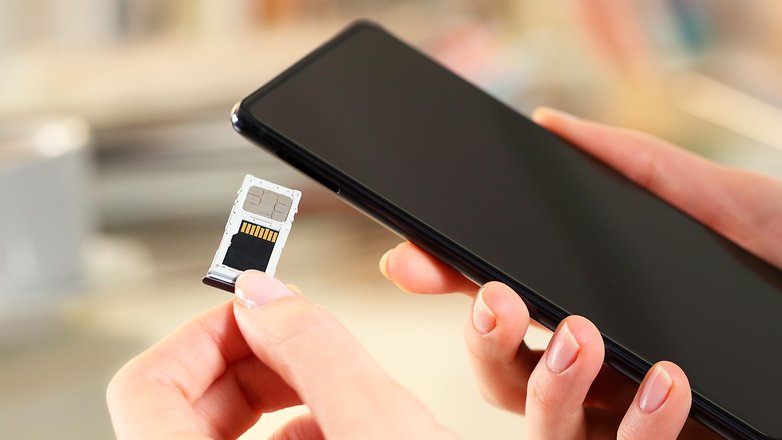 Pull out the small cell phone drawer and insert your SIM card in there. There is usually a small indication on the cart as to how the card should be inserted. However, since one corner of the SIM card is cut off and this shape is also used on the slide, you can only insert it in one direction.
Now push the cover back on your smartphone and make sure you can do it without much resistance. If you notice that the inserted SIM card is stuck, please remove the slide cover of the device and insert it again.
Advice: If you bought a memory card for your phone, you can insert it at this step. If your smartphone supports external memory cards, you must also insert them into the SIM card slot. Now turn on the phone by pressing the power button.
When you turn it on for the first time, you should have your SIM card and a WLAN password handy, as Internet access is required for some setup steps. Your smartphone will connect to Google and possibly your smartphone manufacturer. This is how additional functions are unlocked, which we will go into in the next point.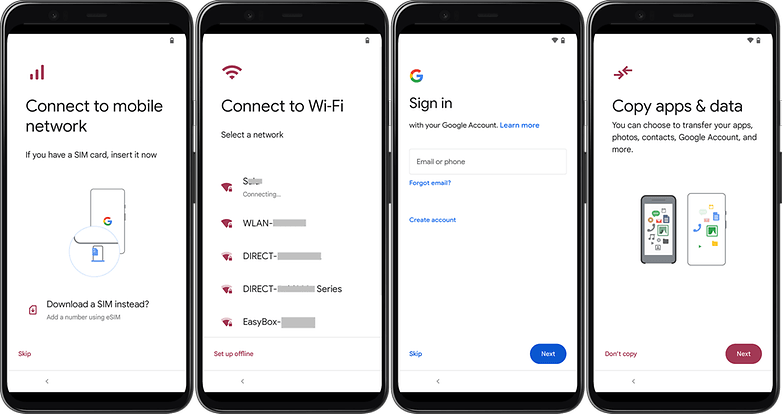 Great question: use a Google account?
In order for Samsung, Huawei, Sony and the other manufacturers to get Google's Android operating system for free, they need to pre-install some Google apps. The setup wizard asks if you want to set up a free user account with Google.
The Google account offers you important advantages:
Play Store Apps
You can use Google account to access Play Store. This includes downloadable applications, that is, programs that offer additional functions for the smartphone. You can also get app updates from the Play Store. We'll get into the apps themselves below.
If you already have a Google account, you can sign in with it now. You can use your GMail address like a Google account or the account you created on YouTube years ago. Otherwise, touch No and create a new account with a new or existing email address for free. Once set up, Google asks for payment methods (for any subsequent Play Store purchases) and personal data. You can block and skip both questions:
Enhanced anti-theft protection
Using a Google account gives you access to the web service find my device. This is useful if you have lost your cell phone. Because here you can let the mobile ring remotely or lock it, erase it or reset it if it is still on and connected to the Internet.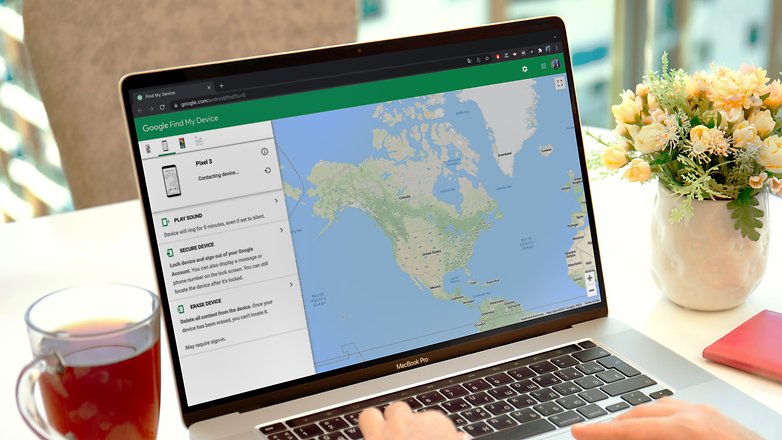 In addition, a reactivation lock is set with the Google account. If a thief factory resets your smartphone in recovery mode, he will ask for your Google account after the first start. If the thief doesn't know, he won't be able to do anything with your smartphone that fast.
Free backup of your contacts, appointments, emails and more
As an Internet service provider, it makes sense for Google to record, secure, and synchronize your Internet-based activities. Google account gives you access to your contacts, emails, browser bookmarks, appointments, photos, and files from multiple devices.
This means that a lot of important data is doubly protected if you lose your device or want to set up a new one. Here's how you can restore more backups or data.
Alternatives to the Google account
Some manufacturers, such as Samsung or Huawei, also ask you when registering if you want to create an extra account. This usually also includes alternative services to protect against theft or to secure your contacts. However, when you're looking for new apps or app updates, you're more or less dependent on Google: there are serious alternatives to the Play Store, but none offer the same reach. Huawei and Samsung pre-install their own app store on their smartphones, which usually contains some apps that Google doesn't have. The manufacturer account is required for this, but you can also do without it.
Transfer data from an old phone
We assume that you already had a smartphone before. So the question arises how to transfer the data from one smartphone to another. We work through some scenarios. This resulted in a lengthy article:
Transfer WhatsApp chats from old phone to new phone
Do you use WhatsApp messenger like most cell phone users? Then you need to transfer the old chats directly when setting up your new cell phone. We have written a separate guide for you where you can find out in detail how WhatsApp chats can be transferred. But it's usually very simple: install the app on the new phone, verify your phone number, and download the backup from Google Drive. Finish!
The perfect start with the new Android phone
Set up screen lock
So that not everyone can use your mobile, you must protect it with a PIN, a password or a pattern. Also, almost all smartphones now have a fingerprint sensor, making secure unlocking easy. The possibility of facial unlocking is now also very widespread. Important to know: If you go for so-called biometric unlocking, you also need to set a PIN, password or pattern as a workaround. This way you avoid not being able to unlock your cell phone because your fingers are wet or the cell phone does not recognize your face in the dark.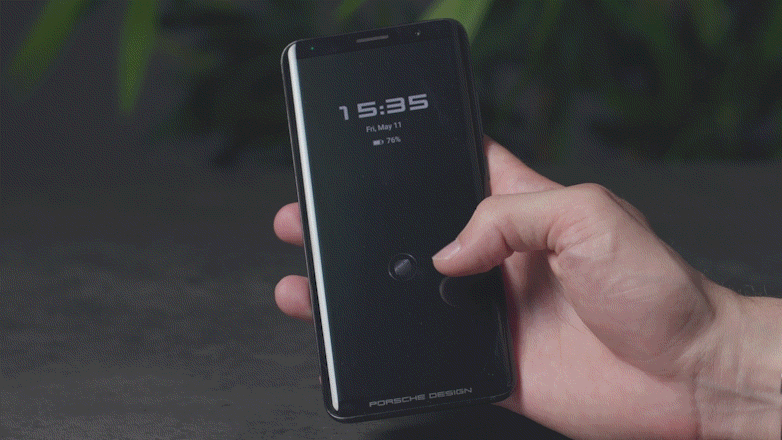 The screen lock also has other advantages, which we will talk about in a separate article. Caution: In the event that you ever forget your password, you should have alternate options ready. We also explain the legitimate methods separately:
install updates
Your smartphone is probably constantly connected to the Internet. So theoretically it's always vulnerable. Protect yourself by regularly installing operating system updates. Several manufacturers deliver them monthly. Therefore, you will probably be faced with updates shortly after setting up your new smartphone. Install them up to the latest to close even the most recent vulnerabilities. This can take some time, especially with cell phones that have been on the market for a while, take it.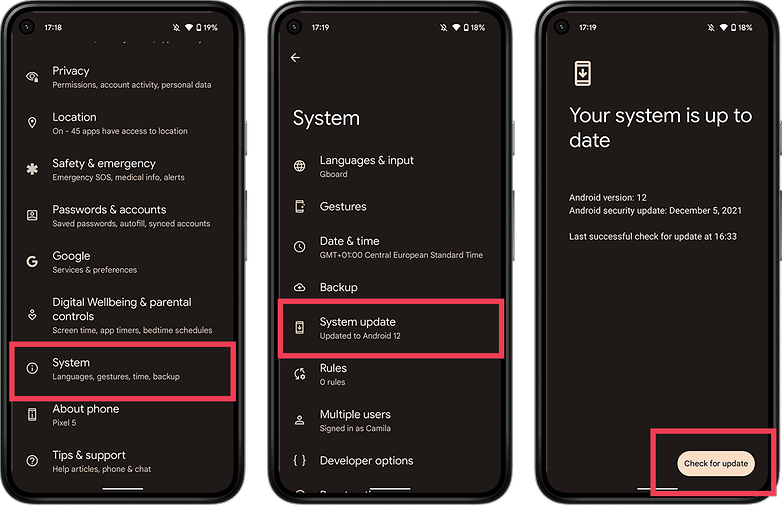 Start installing the apps that are important to you. We've rounded up a selection of good Play Store apps for you over the years. There are also many games to choose from on the Play Store. Numerous apps are already pre-installed on the new smartphone. On the one hand, there are the various manufacturer programs, which often cannot be removed, consume system resources, and are rarely the best application solutions. You can turn them off and create some space and order.
Personalize your smartphone
Give the smartphone a personal touch. A new background image, a different ringtone or even a different launcher give your smartphone a whole new look. In a separate article, we will show you where to find wallpapers, ringtones and launchers and which ones we recommend:
Backup of captured images with Google Photos
One of the pre-installed Google apps and services is Google Photos. The application offers you to save your photos to Google. This has two advantages: on the one hand, you can no longer lose the photos that are protected in this way with your smartphone. On the other hand, you can delete photos from your smartphone after uploading and free up storage space on your phone for new photos. For a long time, Google Photos was unlimited, but now Google counts uploaded images towards your data quota. Google Photos is still a good way to manage photos on your phone. Because even without a backup, the key is that the images are automatically tagged and easily searchable.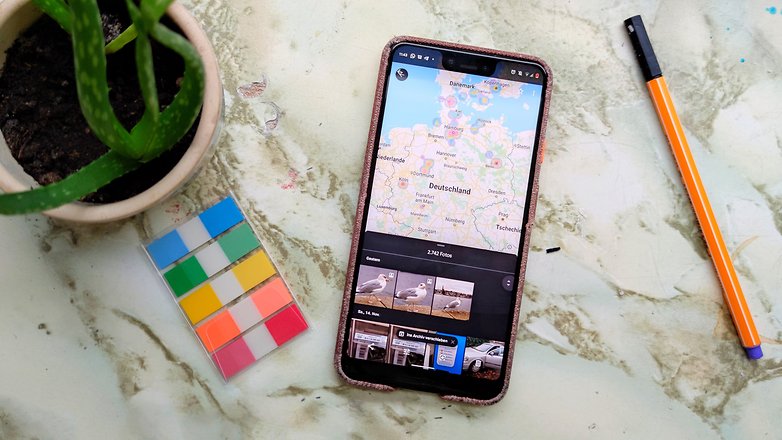 How do I find new applications?
Smartphones are personal companions and they are always what you do with them. Because with the apps you can manage the cell phone with many practical functions. If you wish, you can produce music on your cell phone, record videos or learn languages. Here we would like to refer you to our app leaderboards, where you will find apps selected according to specific topics or application areas.
That said, you should take care of your phone and regularly clean it of junk data so that it doesn't become slow over time due to full memory or too many apps running in the background. You can find out how to free your cell phone from data waste in the linked article.
conclusion
Once you have decided on a new mobile phone, you should now be able to take full advantage of the many new features. At the same time, in this article we have also tried to think about the further use of your mobile phone. Because after the configuration, the maintenance of the operating system and the expansion of the range of functions are not over yet.
If you are disappointed and find that you don't like the mobile phone, of course that is not a problem. Because you can transfer the settings and applications and data already collected to a new cell phone with the same steps, as long as you can keep the old cell phone for a few more days. Of course, we also support you in your search for a new smartphone and show you the best cell phones in different categories.
Just go to our overview of the leaderboards
---
This article was reviewed and supplemented December 2021. Previous comments have not been removed and may be taken out of context.