Where should I sell my smartphone? How much is it still worth and where can I get the most money for it? We have covered the most important questions and also told you how you should prepare your smartphone for sale.
Jump to section
Prepare smartphone for sale
You must delete your data so that the buyer of your smartphone does not post on Facebook with your name. And before that, a backup is adequate so that your data does not disappear once and for all. In separate articles, we show how to reset your smartphone before selling it and erase everything:
How much is my smartphone worth?
Different sales portals offer to determine the current value of your smartphone. Often, however, your estimate is well below the price you can still get for your used smartphone with a little initiative.
So search eBay for your smartphone model and see what price previous auctions ended at. To do this, set the appropriate filters for the search results.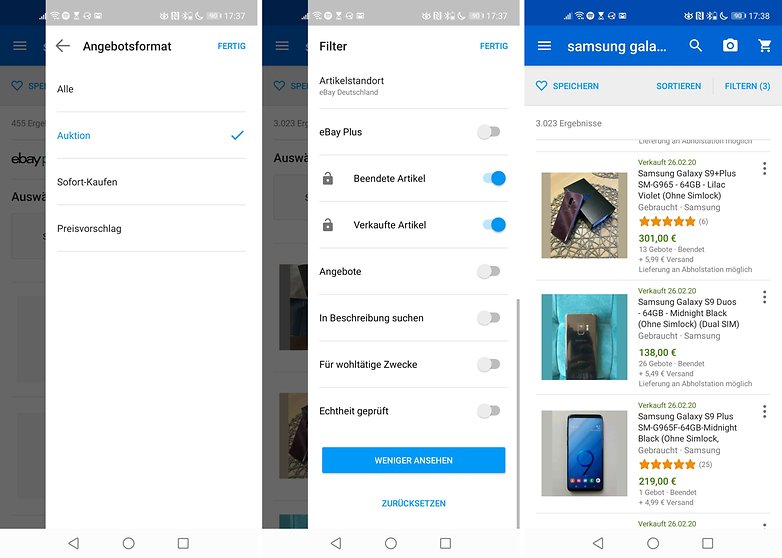 Then click on the particularly expensive deals and find out how the sellers got the good price. Was the description particularly good? Were the photos of high quality? Did the previous owner include many accessories? If the price is worth it to you, you can click the button on the offer sell such an item Tap and create an ad based on this template.
Is the smartphone damaged or not worth enough? donate it!
If the expected price does not justify the effort, you can donate your smartphone for processing. For this purpose, the German Environmental Aid has launched "Mobile Phones for the Environment". The professionals will then repair your smartphone if necessary and resell it at a reasonable price.
Where should I sell my smartphone?
Smartphone auction on eBay
With all of its buyer protection options, rating system, and huge user base that increase your chances of a sale, eBay is arguably the most obvious place to sell your smartphone. Advertising is free, at least for the first 20 ads per month. Additional requests, such as a fixed starting price of more than one euro or starting at a planned time, have an additional cost. And at the end another ten percent of the price achieved is added (without shipping costs). So if you sell your smartphone on eBay for €240, you'll probably get around €27 on the fully automated auction house. (fee summary)
Sell ​​smartphone in classifieds/Facebook/Forum
Significantly cheaper, that is, without fees, you sell the smartphone on eBay classified ads, in a Facebook group or on a forum. The big drawback is that payment and shipping are based on trust through a private message. If possible for you, meet directly with the buyer. He can take a look at your smartphone and give you the cash.
Have you ever installed a custom ROM on your smartphone or is it a particularly exotic variant? In the corresponding forum, you will probably still find the community that is most open to rooting and other smartphone mods. Here, however, you should not hide in the advertisement whether you have already modified your smartphone or not; as defined in the guidelines when offering hardware.
Sell ​​smartphone through reseller (reseller)
Resellers are a good compromise to sell your smartphone: they offer you less money than an eBay auction or even selling through advertising. On the other hand, the business is mostly risk-free; After all, you are dealing with professionals. Media Markt has been a reseller for a few months (thanks to their partner ecoATM):
Many online providers follow the same principle. In the quick test, we compare what you'd still get for a pristine 64GB Galaxy S9 Duos two years after launch (source: Bonavedi):
At the Zoxs reseller you can add another ten percent to the given value if you buy your next smartphone directly from the store. This is also restored, so you are doing something good for the environment.
Selling a used smartphone: conclusion
As you can see, each option has its advantages and disadvantages. eBay offers a good compromise between earning potential and security, but it takes a lot of effort. Resellers save you work, eliminate most of the risk, but keep some of the margin. eBay classifieds are attractive in cities and metropolitan areas where buyers and sellers can meet in person.
How do you handle your old smartphones? Do you use them until they can only be donated? Or do you sell regularly and supply the second-hand market with good products?