Very often, our Android and iOS smartphones offer useful features that make our lives much easier. Some of them may be real lifesavers, but many are not even aware of them. Sound detection is one of those features that can be useful not only for people with hearing loss. We tell you how to activate these noise notifications on your Android smartphone and iPhone.
According to the WHO, more than 460 million people worldwide suffer from hearing-related disabilities, representing more than five percent of the world's population. This sometimes has dramatic effects on the participation of these people, but sometimes it can even threaten their own lives if, for example, an alarming noise cannot be recognized in time.
Google has addressed exactly this problem and has expanded its live transcription app accordingly. Who is now in the Google Play Store the application Automatic transcription and sound notifications Not only does it receive the transcription of 80 languages ​​in real time, but since the end of 2020 it also has the feature of being able to be notified of noises in the environment via smartphone. Apple was even a bit more nimble: sound detection was introduced in the summer of 2020 with iOS 14.
How do sound notifications work?
Anyone who packs sound notifications on their Android smartphone or activates the feature on iOS can be notified of important and critical noises in the home via push notifications. This means lots of different sounds like knocking, the doorbell ringing, appliance beeping, smoke detectors, dog barking, baby crying, running water, and a few more. If the AI ​​recognizes such noise from the smartphone's microphone, you will receive a push message and, with Android, the smartphone will vibrate and the camera light will flash.
This works offline in both cases, so you don't have to worry about all the noise detected in your home ending up on Google or Apple servers. Please note that neither Google Assistant nor Siri can be used while the feature is activated and your battery consumption increases as a result of the feature.
This is how noise notifications are activated on Android
Download the Google Auto Transcription and Sound Alerts app from the Google Play Store. This doesn't apply if you're using a Pixel smartphone, because the app is already pre-installed there.
Turn on accessibility features in your smartphone settings.
Now open sound notifications. Please note that the option may be called a little differently on smartphones from different manufacturers. On my second Samsung phone, for example, I found sound detection in the accessibility features under "Installed Services."
Confirm the authorization request after calling the service
Start the feature through the accessibility features or by calling the app directly.
Turn on sound notifications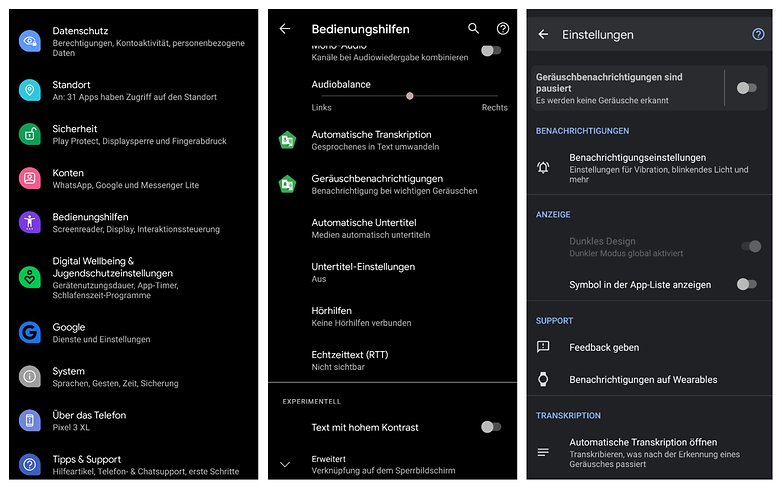 This is how sound notifications are used
You can run a short demo in advance to try out the feature. I myself have tried the service activated with running water, knocking on the door and my doorbell. I actually wanted to try the smoke alarm too, but lighting my shack seemed a bit overkill for an Android tutorial.
As long as noise notifications are on, you have the option to select the noises in the app settings that you actually want to be notified of when they are detected. There you can also set separately for the different noise priorities whether the flashing light and/or the vibration alarm should be activated. If you own an Android smartwatch running Wear OS, you can also get noise information there.
Google itself gives some advice that you should take into account so that the function also recognizes the desired noises as reliably as possible:
Place your smartphone in the middle of the room where you want to detect sounds.
The smartphone must not be blocked by other objects.
Make sure other sources of noise in your home, like the television, are quiet.
Noise notifications are always on and can increase battery consumption, so charge your smartphone every day.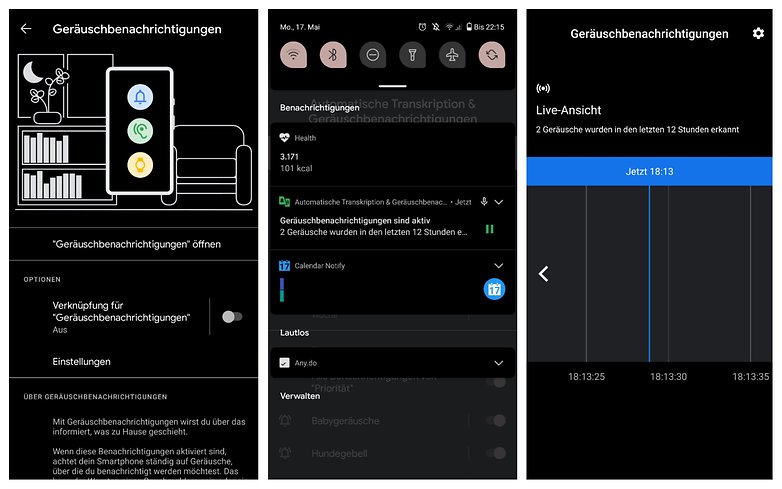 Enable noise detection in iOS
The whole story is even less complicated for Apple users, because noise detection was implemented directly into the system with iOS 14 and can be activated there very quickly. As soon as the selected sounds have been selected, the iPhone also listens carefully, although this also happens locally and there is no exchange with the cloud.
A push notification and vibration indicate that a sound has been detected. Of course, Apple also supports Apple Watch with sound detection, so incoming alarms show up there too.
To be able to use the function on the iPhone, proceed as follows:
choose Settings > Accessibility > Sound detection.
taps sounds
Enable the sounds you want the iPhone to recognize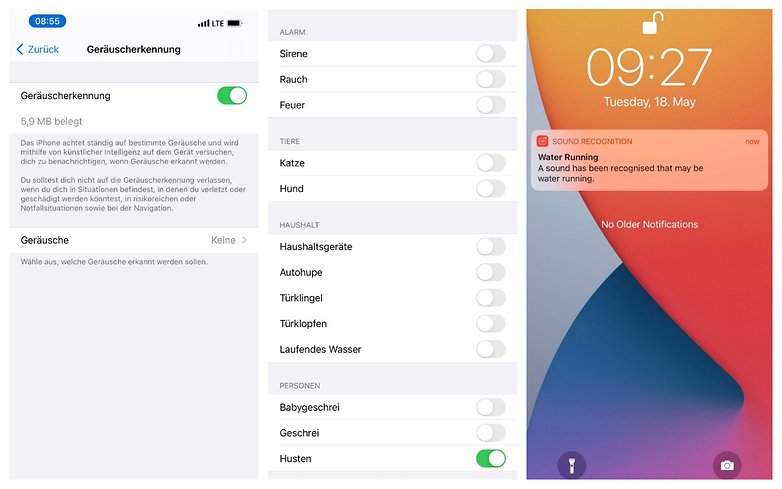 Like I said: The feature was incredibly reliable in the test, and so it's definitely a big relief for people who are deaf or hard of hearing. However, sound notifications can also be of great help to you, for example, if you're sitting on the couch with your headphones on and still want to make sure you hear when someone rings the doorbell.
That's why I'm really impressed by the feature and by Google and Apple's efforts to take into account people who are usually disadvantaged due to their disabilities and for whom such an app gives them more safety and convenience. But also tell me if you share my opinion and if you could be using the app yourself. You can also let us know in the comments about other features that you think deserve more attention.