Especially when you have decided on the version with the smallest memory for the mobile phone, the shock is profound after turning it on: Why are only 100 of the promised 128 gigabytes available? The answer is, among other things, bloatware, that is, pre-installed applications that manufacturers install on the cell phone at the factory.
Samsung and Xiaomi in particular are known for having a lot of programs installed the first time they boot up. With Xiaomi, it is also recommended to remove advertising from the mobile phone. Google and Motorola, on the other hand, rely heavily on stock Android. But if you don't need the apps under any circumstances, there are some easy ways to free up your mobile phone's memory.
Jump to section:
Try to uninstall system apps manually
While some bloatware is permanently installed on the phone, there are also pre-installed apps that can be easily removed. All you have to do is press and hold the app icon on your home screen or app drawer for a moment. The phone then displays an area on the screen that leads to the uninstall.
Hold your finger on the app icon on the home screen
Drag it to the "Delete" button at the top or select the corresponding icon
Ideally, this is enough to remove the pre-installed app
Alternatively, there may also be a popup indicating removal or uninstallation. If this method does not work, you can also choose the way through the application area in the settings of your mobile phone.
Disable unnecessary apps
Not so easy to remove pre-installed apps? So disabling apps is a good way to free up memory. Basically, you paralyze apps without completely removing them from the list of pre-installed apps.
It frees up memory quite a bit, as the following comparison of bloatware before and after deactivation shows.
Space required for disabled apps
| Department | Space required before deactivation | Space requirement after deactivation |
| --- | --- | --- |
| Facebook | 325MB | 8KB |
| Instagram | 66MB | 8KB |
| Google Play Movies and TV | 28MB | 8KB |
Disabling some apps also proves to be an effective alternative to removing them.
With some Android surfaces, tapping and holding the app icon is enough. The option then automatically appears in the context menu. Deactivate unfolded.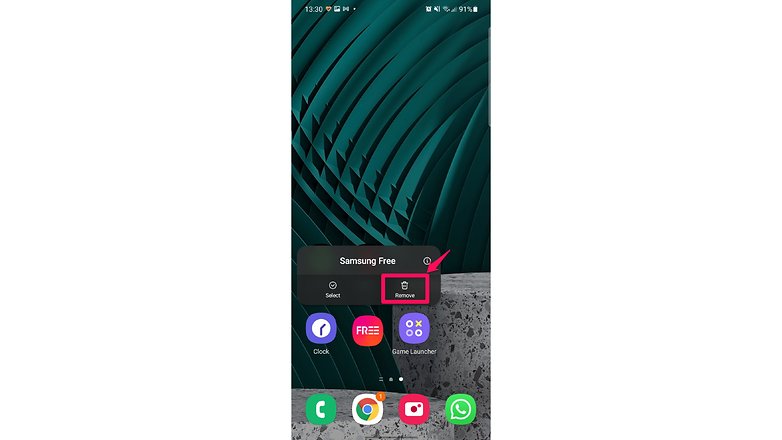 However, Google writes on a support page that disabling pre-installed apps doesn't work on all cell phones and depends on the manufacturer. Therefore, we have some more methods for you that work more with the lever. But before that, we will briefly show you how you can reactivate disabled apps.
(Re)activate disabled applications
Go to the settings
Find the submenu app
Here you can filter by disabled apps. just choose Activateto download it again from the Play Store.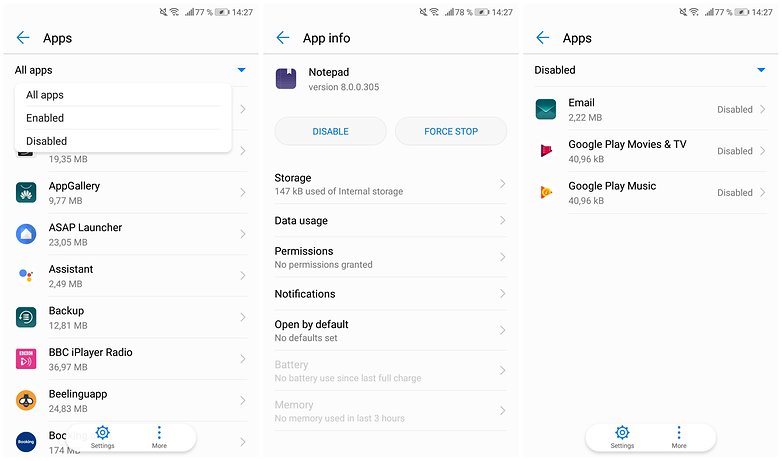 Avoid bloatware during setup
If you're setting up a new device, you can sometimes avoid bloatware the first time you set it up. Here it is worth curbing your desire for the new smartphone and take a closer look. This is how you do it:
The installation wizard often asks what additional applications you want to install.
Tap the appropriate option and uncheck the apps you don't want.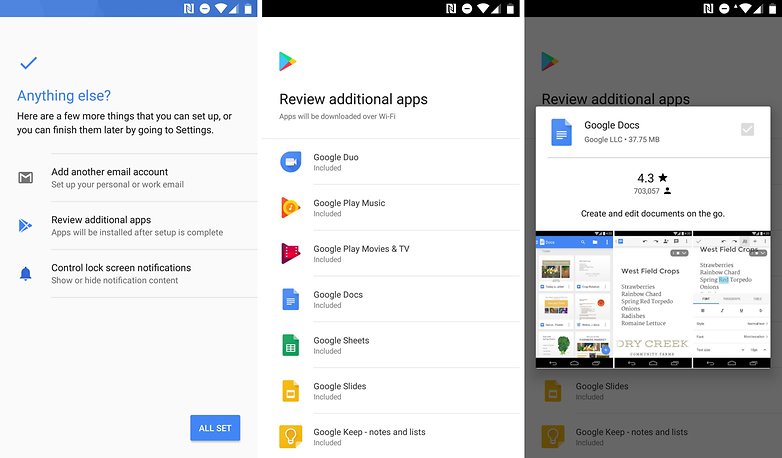 Unfortunately, there are also devices that make your life difficult: here the hooks are grayed out and you have to download everything. Sometimes you get rid of apps as described above, but later.
Professional methods against bloatware
Remove bloatware and system apps without root
If just disabling pre-installed and system apps is not enough for you, you may like the following method to remove bloatware apps without root permission. Unlike the supposedly simple method with root permissions (see below), this method does not have irreversible consequences for your smartphone or your warranty claims.
A caveat First of all: If you remove a system-critical app by following these instructions, it could cause your device to malfunction! Then a factory reset would be necessary, which is associated with data loss. NextPit assumes no responsibility in the event that you can no longer operate your device or suffer data loss.
The steps at a glance
Prepare device drivers, ADB, USB debugging
Identifies apps to be removed
Remove system apps
How to recover deleted system apps?
1. Install drivers, ADB tools and enable USB debugging
In the first step, you need to connect your smartphone and PC in such a way that the smartphone can receive console commands from the computer. These commands are sent over a USB cable through the debug interface Android debugging bridge (ADB) transferred. We explain the necessary steps in a separate article: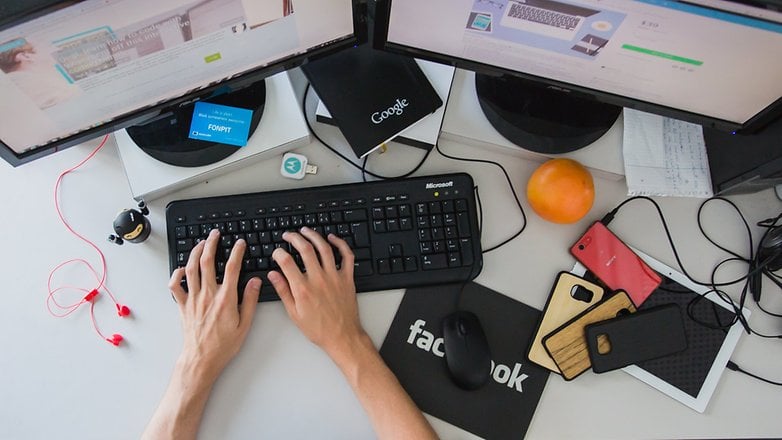 2. Which apps do you want to remove?
For the method presented here to remove system apps, you need to know the package name of the apps to be removed. Unfortunately, these are not always easy to find. On PC, you can get a quick overview of installed packages on the command line via…
adb shell pm package list | grep
In principle you can do that. grep do without and let you skip the full list. However, if you only want to display Samsung apps, you can limit grep in.
The app serves as a graphic alternative package name reader. This lists installed apps separately as user and system apps, offers a search function, and the option to select multiple packages at once and copy the package names together to the clipboard.
There is also a thread on the XDA Developers forum with a list of app package names that you can uninstall with a clear conscience. Green inputs are considered safe, blue ones are unknown, and you should keep your hands off red ones.
3. Clean
In the next step, you can remove apps without replacement and only with difficulty. Particularly important: If you remove a launcher or browser, you must first obtain an alternative. If you want your smartphone to be completely Google-free, you need to take a different approach. There is an Android distribution for this that is optimized for use without Google services. But that's another topic:
So if you're sure you want to remove a package, type the command…
adb shell pm uninstall –user 0
Instead of of course, you have to enter the string corresponding to the app you want to get rid of. For example, if you want to uninstall the pre-installed clock app on a Huawei smartphone, enter the following:
adb shell pm uninstall –user 0 com.android.deskclock
The commands mean the following:
adb shell: adb sends a command to the smartphone's internal shell environment.
p.m: The command refers to the packaging manager.
uninstall: Of packaging manager I should uninstall something.
-user 0: removes the app from the power user space. The application is not removed from the system partition; this would require root privileges.
Can I recover deleted system apps?
No, because the application is not removed from the system partition and is still available as an installation file (APK). /system/app/ find. But to get there, you need a file manager that allows you to access the system directory, which is no longer possible with newer versions of Android.
Alternatively, you can also find the app on the Play Store and reinstall it there. However, the app you are looking for may not be available on the Play Store. One more reason to approach this method with extreme caution. In the worst case, the only option is to do a factory reset, which will also delete all other data on the smartphone.
Remove bloatware with root
With so-called root rights, you can completely uninstall all apps on your Android smartphone. However, these rights come with some complications, which we explain in a separate article:
Of System App Remover (ROOT) does what it says on the box: you select the pre-installed apps and the app deletes them. Thanks to the recycle bin, you have the option to restore the app afterwards. For maximum memory gain, you can empty this recycle bin last.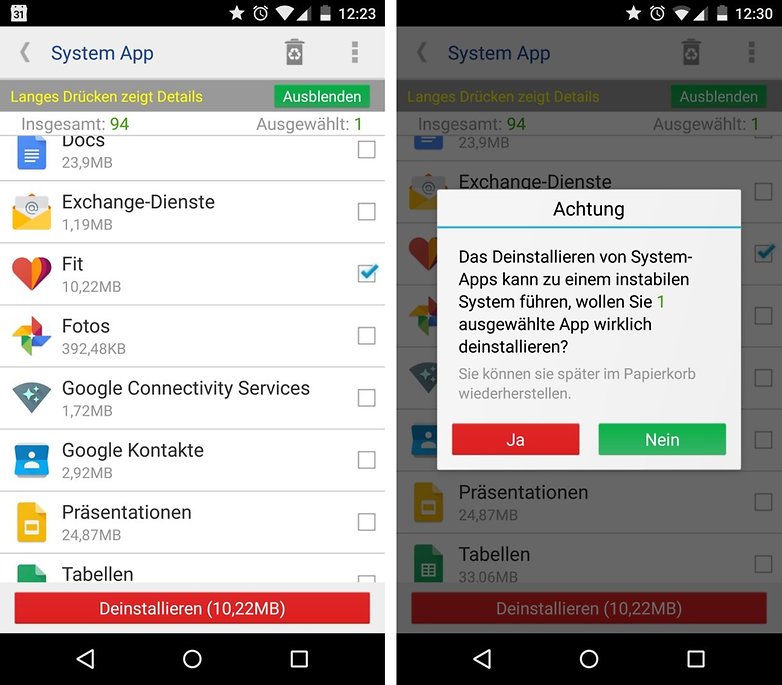 conclusion
If you want to make your smartphone a little faster and also free up memory, you need to remove unnecessary apps. If this is not possible, turning it off is effective enough. But if that doesn't work either, it's worth investigating whether your smartphone will still work without this app.
If it's not critical, you can safely remove it using the console method via ADB. Removing system apps with root rights is only worth it in rare cases, as the loss of warranty that comes with it is too high a price to pay. As you can see from the screenshots above, we haven't taken chances for a long time, especially since modern smartphones are no longer so limited when it comes to storage space.
---
We update this article periodically. Therefore, comments may refer to a previous version of the article and appear out of context.