Are you constantly getting storage warnings from Google Photos, Gmail or Google Drive? Then, during today's coffee break, we'll tell you how you can easily and conveniently clean up your Google online storage. You can quickly find large files that take up a lot of space or delete superfluous files that you no longer need.
At least since Google stopped offering free storage space in Google Photos, the shortage of online storage on Android has been a problem. Since 2021, the storage giant has also added emails to the available storage quota and WhatsApp backups are also stored on Google Drive. With a free quota of 15 gigabytes, you quickly reach your limits.
To free up some storage space, Google offers built-in tools in every Gsuite app. With these, you can find and delete files that are taking up too much disk space, have already been marked as spam, or are sitting in the trash waiting to be permanently deleted.
An easier option is to sign up for Google One, which gives you additional online storage on Google. However, you should know about Google One even without a subscription because the service offers better tools to remove unnecessary files faster. Simply follow the steps below: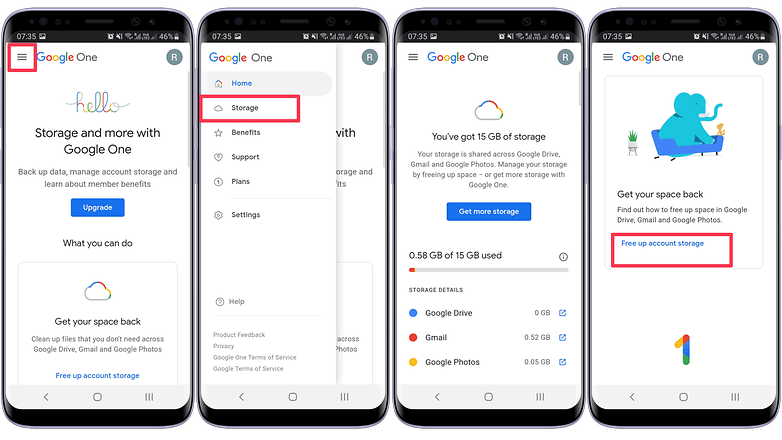 Open one.google.com in your browser and sign in.
Tap the ≡ ("Burger Menu").
Choose the option Storage space.
Scroll down and tap Free up account storage.
Delete large files, media and emails from your Google account
On the page that opens, you will be presented with several options to delete files in Google Drive, images and videos in Google Photos, and emails in Gmail. First, let's see how you can delete emails with large attachments:
taps check and remove.
Select the emails you no longer need.

By scrolling the screen horizontally, you can see more details about the message, e.g. B. the size of the file

Tap the trash can icon.
Please read the warning: emails/files will be permanently deleted; check the "I understand" box and touch permanently delete.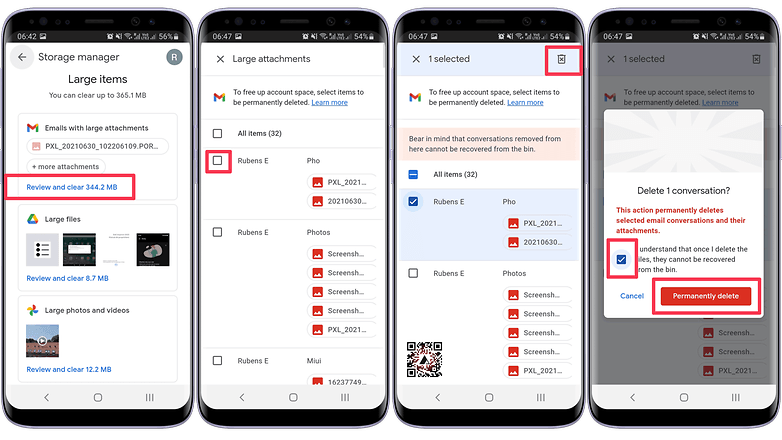 The same steps can also be done with large files stored in Google Drive or Photos. Note that Google Storage Manager only offers to delete files that count toward your storage limit, so images and videos saved in space saver mode before Photos stopped free use won't qualify for deletion at all. the list.
Empty the junk and spam folders in Google storage
Another quick way to save space on your Google account is to delete emails and files that are temporarily in the trash or marked as spam. To do this, follow these steps:
Touch "Check and remove"
Select the messages/files you no longer need and then tap the trash can icon

You can also quickly click "delete everything" tap to remove all.

Check the box"I have understood" and then touch the buttonDelete permanently".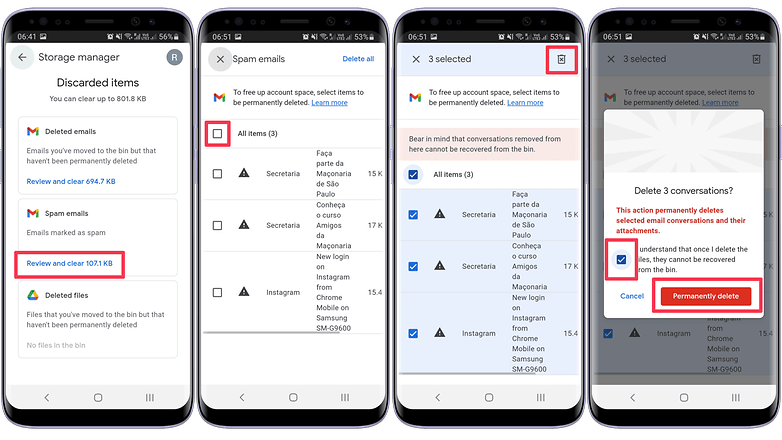 Unfortunately, Google One can't be used to delete files from corporate accounts, so it looks like a tool for selling cloud services. However, the company does offer a Personal Accounts app (Android | iOS) that offers additional options for managing the profile and even a tool to delete unsupported video files stored in Google Photos.
Are you annoyed that the available storage space of your Google account is constantly reaching its limits? Do you prefer other online storage services? Let us know what you think in the comments below!