With OxygenOS 11, OnePlus brings a feature that the OnePlus community has wanted for a long time: a true always-on display. But as always, OnePlus puts a little twist on a familiar feature with Insight AOD, the new Screen Time display. Below you can read a short guide from NextPit on how to activate Insight AOD on your OnePlus smartphone.
However, without setting up the new always-on display in OxygenOS 11, the new Insight AOD is pretty boring. You can already take a first look at it in my review of the OnePlus 8T. The screen has multiple clocks and "faces", contextual information with your memories, a music player and, of course, notifications.
Slightly more innovative is ambient mode for the new screen, which adjusts brightness based on the amount of ambient light while draining the battery a bit. However, if you're a little familiar with Insight AOD, it can add some new features to the basic set of features while bringing a touch of digital wellness to the OnePlus world.
What is OnePlus AOD Insight in OxygenOS 11?
The default Always on Display in OxygenOS 11 is pretty standard. You can select multiple clocks or "faces", create background information with your memories, control your music player, and of course show notifications.
We have already briefly touched on the handy ambient light mode. You should definitely enable the feature if you want to save some battery life. Basically, Insight AOD is a visual indicator in the form of a colored vertical bar that tells you about your usage time with the device.
Here you can see with each unlock how often you have already unlocked your device today and the bar changes color depending on the length of screen time.
Here, my OnePlus 8T's Insight AOD shows that it's early afternoon (the top of the bar represents the middle of the morning), I've unlocked the phone 24 times, and my screen time is almost zero. / © NextPit
The vertical bar color code simply represents the 24-hour day/night cycle. I haven't finished battery tests on my OnePlus 8T yet, so I can't tell you for sure how much the always-on display enabled will affect its battery. life. Of course, the indicator is not permanently displayed and only appears when you activate the screen. As before, this can be done by touching or picking up the smartphone.
With this option enabled, the always-on indicator gives you a 'view', a preview, of your usage, and if it gets too intense you can try un-ticking it for a few moments. Every time you unlock the screen, a space is added to the vertical color bar. The longer the period between each unlock, the larger the empty space.
How do I enable Insight AOD in OxygenOS 11?
Activating OnePlus Insight AOD is not exactly intuitive. Interestingly, you can't set it directly from the "Always on Display" menu.
The tutorial in brief:
Here's how to enable always-on displays in OxygenOS 11: Settings > Display > Ambient Display > Enabled (yes, it's On, not Enabled, so wait for feedback!)
To enable Insight AOD on OxygenOS 11: Make sure Ambient View is enabled, then go to Settings > Personalization > Clock Style > and select "Insight".
1. Enable Always On Display
You must first activate the always-on display in the corresponding menu on the screen. This feature is called "Ambient Screen" in OxygenOS 11.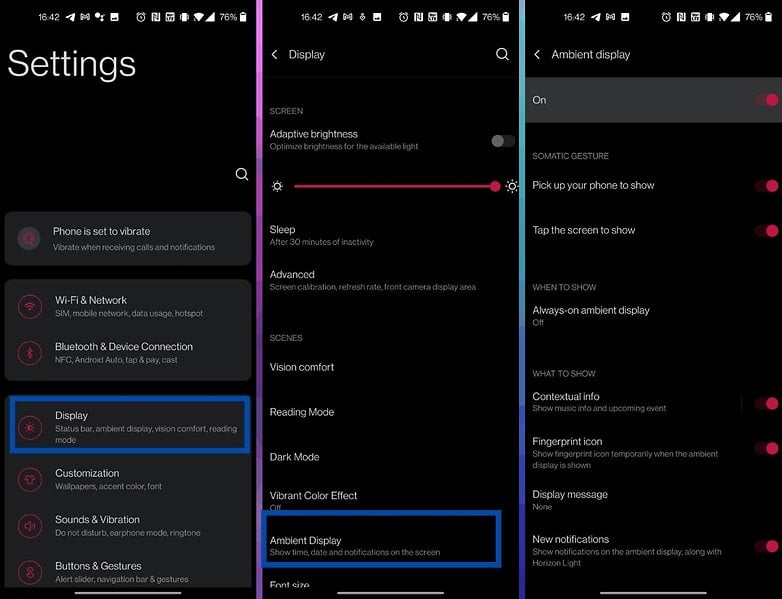 2. Enable Insight AOD in personalization settings
Once the ambient screen is activated, you go to the personalization menu. In this menu, go to the "Clock Styles" section and select "Insight AOD". That is all! It's not really complicated, but the activation is still not intuitive…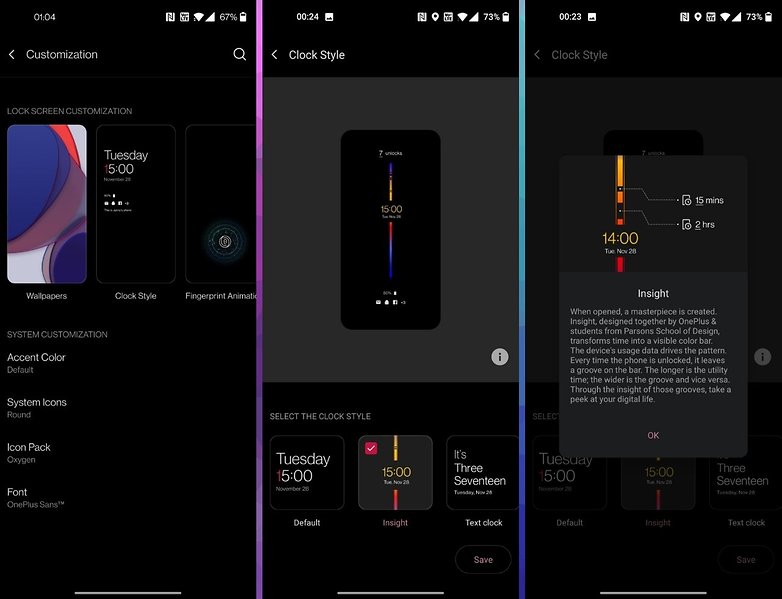 Have you already been able to test the feature in OxygenOS 11? What do you think of the integration of an unlock counter and screen time in an "always on display"? Digital well-being or pure alarmism? Let me know in the comments!