Either by download or with Phone Clone relocation app: On an Honor or Huawei smartphone without Google apps, all the apps you previously downloaded or even bought from Play Store will not work. In a large sample, I show you what problems you have to face and how you solve them.
I have been testing the Honor 9X Pro without Google for two weeks. I am less frustrated than I initially feared. I can still use many of my old apps. Either I find it in another app store (rarely in AppGallery), I can replace it with a web app, or I find an interesting alternative that I never would have found without the need to act.
Time and time again I am positively surprised during this journey of discovery. But I could understand if someone does not have the curiosity and, above all, the patience that this change requires. So let's go through it in stages…
Inventory: These applications have been tested
Before testing the Honor 9X Pro, I used the Huawei nova 5T (test) (with Google services) continuously. Of course, this is a favorable starting position, because I was able to use the Huawei Phone Clone tool to its full extent to move to the Honor 9X Pro. Apps and app data can be transferred from the old smartphone to the new one in no time. .
The following apps were part of my test and thus serve as a sample:
airbnb
base camp 3
Bring!
choronic
eBay
eBay Classifieds
eufyHome (smart home control)
Feedly
penny pincher
google assistant
meeting places
google calendar
google maps
(Hangouts) Get together
gmail
Banking ING
Joey (Reddit app)
last pass
LinkedIn
Nuki
PayPal
personio
ProtonMail
sign
Loose
Spotify
swifttimes
synchronizing
Telegram
tresma
train line
win SIM service
zoom
Apps that keep working
We were able to successfully transfer the following apps from the old smartphone to the new one via phone cloning or download and continue to use:
Airbnb (Phone Clone)
Coronika (Phone Clone)
eBay Classifieds (Phone Clone)
eufyHome (smart home control, Aurora Store)
Feedly (website)
Miser (Phone Clone)
ING Banking (Aurora Store)
LastPass (Aurora Store)
LinkedIn (Phone Clone)
Nuki (Phone Clone)
PayPal (Phone Clone)
Personio (Phone Clone)
ProtonMail (website)
Signal (Pure APK)
Slack (Aurora Store)
Spotify (Aurora Store)
Synchronization (F-Droid)
Telegram (F-Droid)
tresma (website)
Trainline (Phone Clone)
winSIM Service (Phone Clone)
Zoom (Phone Clone)
In the AppGallery I found Airbnb as a "quick app". A look at the official documentation reveals that this is apparently Huawei's counterpart to Google's "Instant Apps" (documentary). However, the version installed via Phone Clone or the Play Store alternative works just fine.
In the AppGallery itself I only found the Geizhals, Telegram and Trainline apps for direct download. On Spotify, the entry led me to download APK Pure. I searched google maps, the very good Maps.me alternative appeared (see below).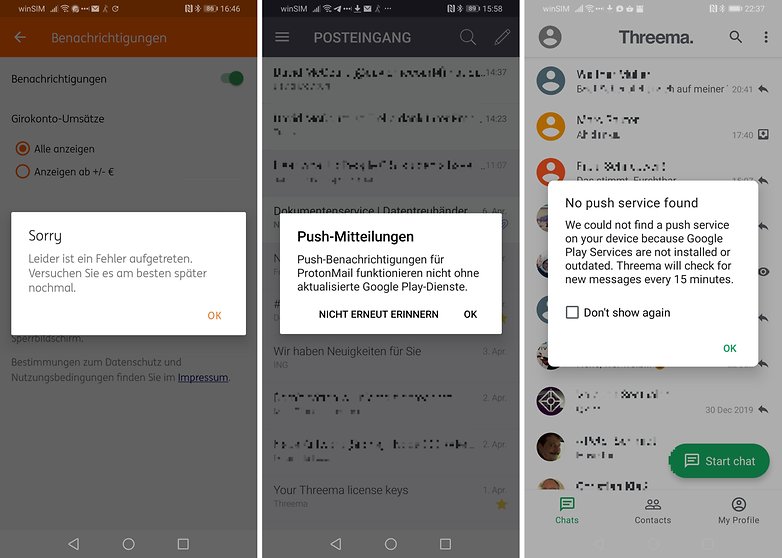 The version of the ING banking app obtained from the Aurora Store works perfectly. Only when I want to turn on notifications for transfers in the settings, there is an error message. Because then the app would want to access the GMS core, which is missing from the Honor 9X Pro. The app does not recognize the existing HMS Core.
ProtonMail behaves in a similar way, warning me every time I open the app that I won't be notified about incoming email. The service also shows me the same warning when I download the app from the official website.
With Telegram, instead, I use the F-Droid variant. It is optimized for use without Google services and attaches a notification. The app stays active in the background and can check the server for new messages every few minutes.
Signal also offers its APK download app on its website. Unfortunately, the version available there is usually older than the version on the Play Store. When you move your chats to the new smartphone, you get the error message that the backup is of a newer version and cannot be restored. I found the latest version on APK Pure.
interim conclusion
Necessity is the mother of invention. But how much ingenuity can a smartphone maker entrust to its users? Historically, Android has been a bit more complicated to use than iOS. However, hobbyists in particular appreciate this property because it gives them a sense of codetermination: I can do something with the device. me want.
But how much of a discovery boost can Huawei and Honor expect from their new customers? For me, as a relatively experienced smartphone user, the lack of Play Store was a medium-high challenge, but what about a new customer who suddenly has to manually download and update everyday apps like WhatsApp?
It gets even more complicated when professional or private needs make Google services unavoidable. In the second part of this article series, I want to describe how you continue to use Google services like Calendar, Hangouts Meet or Gmail as web services and which apps you can replace with good alternatives. I can anticipate one thing: everything works somehow. And it tends to be easier.