Farming is a reliable method in Disney Dreamlight Valley when you want to make a quick buck or need ingredients for dishes. We explain in the guide what you have to take into account when growing a garden and which seeds are really worth it.
How to Grow Dreamlight Valley at Disney
Farming in the game is not that complicated. All you need is a shovel and a watering can, both of which you get at the start of the game. If you want to till a field, you first have to work it with the shovel. Once you've turned the soil into a small mound of dirt, you can plant whatever seeds you have in your inventory. Here you can plant individually or press and hold the corresponding button. Then plant as many seeds of one species as you have, provided of course you have worked enough adjacent fields with the shovel.
Also, do not forget to water the planted seeds, otherwise they will not grow. Some plants even need to be watered more than once. You can see if your plants are too dry on the map with a little red symbol. If it's raining in the game, you can skip this step and your seeds will be watered automatically.
Some farming tips
Harvest Companion: When you harvest, always have a valley buddy with you who specializes in field work. You determine what specializations a character has for them as soon as they reach friendship level 2. If you're out and harvesting with your friend, not only will their friendship bar fill up, but you also have a chance of additional harvests being dropped at you.
The right floor: Where you grow the plants is also important. Each seed has a specific area where it grows particularly well. It's easy to remember which one it is: the plants' home biome is where you can also buy them. While you can plant all the seeds in any biome, you'll need to water them more often before they mature.
The trailer shows what else can be done in Disney Dreamlight Valley: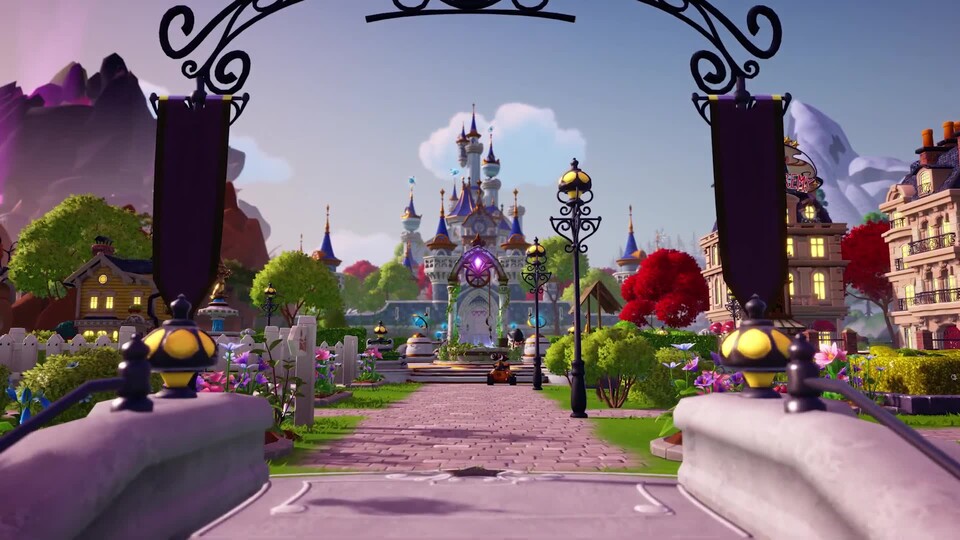 Disney Dreamlight Valley: show what awaits you in the new Animal Crossing alternative
Finding ingredients and seeds – this is how you get tomatoes, peppers and company.
There are basically two ways to get seeds in the game. You can get them by clearing nightthorns in an area and digging up mounds of glowing earth, or by buying them from Goofy's stalls. Each stall has its own zone offer, so you unlock Goofy's stall in each new zone. Also remember to upgrade it (with the construction sign next to it), only then will the full offer be unlocked.
You can buy these ingredients from Goofy or find them in nature:
main square
Apple tree
raspberry bush
oregano
peaceful meadow
banana
raspberry bush
basil
salad
Wheat
carrots
dazzling beach
banana
Coconut Tree (after doing the mission corresponding to Maui)
blueberry bush
Sugar cane
tomatoes
Corn
trust compensation
cacao tree
lemon Tree
mushrooms
okra
spinach
rice
forest of courage
lemon Tree
blueberry bush
Garlic
peppers
Onion
canola
sunny plain
cherry
cacao tree
Chile
Cotton
zucchini
soy
vanilla
forgotten land
Apple tree
currant bush
Leek
dad
pumpkin
Ginger
icy heights
cherry tree
Currant
asparagus
cucumber
eggplant
mint
This is how you make more money from farming.
Different seeds cost different amounts in Disney Dreamlight Valley, but they also bring in different amounts of money when sold. Not only the pure monetary value counts, but also how often a plant needs to be watered and how fast it grows. For example, wheat potentially makes the highest possible profit per hour, but grows too fast to catch up. By contrast, pumpkins have the highest selling value at 664 thalers, but they also take four hours to grow and need to be watered multiple times, so you can't grow here when you're not there.
Therefore, we recommend the following plants: At the beginning of the game, the carrot is perfect. It only takes 15 minutes to grow, costs 10 Thalers per seed, and can be sold for 55 Thalers. Since you don't have to water it in between, it's ideal if you also want to spend time on other things.
If you have a little more time for your plants, we can also recommend tomatoes and rapeseed. Tomatoes take a little over 25 minutes, but the seeds cost 8 thalers and you can sell the yield for 66 thalers (each harvest yields 3 tomatoes for 22 thalers each), but you have to water them at least once in between. Rapeseed, on the other hand, costs 25 thalers per seed, sells for 109 thalers, and takes 35 minutes to grow. However, it should also be watered at least twice in between.