There are many software keyboards for smartphones, and in fact, there are many really useful ones. Google's Gboard is one of those very viable alternatives for both Android and iOS, and over the years, the California company has continued to dig deeper into this app and add new features.
With more functionality also increases the risk of not getting to know one or another trick or function. Or do you feel like the author of these lines, who appreciates every tip and shortcut to be able to use such a keyboard in the most productive way possible due to acute stubbornness. That is why here I have some very handy shortcuts for Gboard for you and I am sure that you will find one or the other tip that you have not yet had on the screen. Here we go:
Shortcut for special characters
You can switch to numbers and special characters with the "?123" key. It's even faster if you hold down the "?123" button and then swipe to jump to the desired character. For example, if you swipe to the euro sign and hold it there briefly, the other special characters will be displayed as usual, in this case the characters for other currencies. If you then release it, the keyboard automatically jumps back to the normal character display.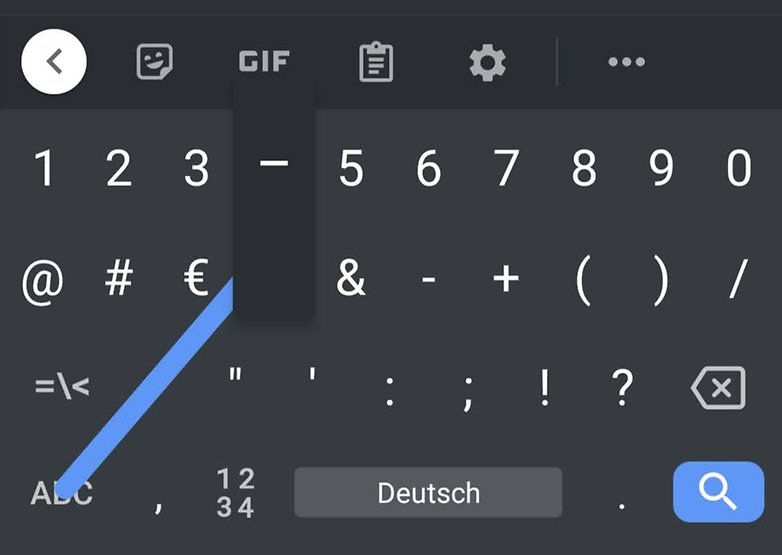 Precise cursor control
Did I mention my oversized cigars. These can drive me crazy when I find a typo in what I've typed and want to return the cursor to that precise spot. Anyone who, like me, suffers from fat fingers or hasn't drunk enough target water will be happy to know that there's also a trick to moving this damn cursor precisely where we need it.
All you have to do is tap on the space bar and then swipe left or right to where you need the cursor. This allows you to navigate to the desired location with surgical precision.
Add shortcuts for your own phrases
Do you also have long, complicated words that you use over and over again or even entire phrases made up of multiple terms that are always found in your sentences? Then there is a trick that will help you save valuable time. For example, I am so caught up in my Depeche Mode bubble that we keep talking about the same albums and songs over and over again in our circle of friends.
It helps that I can shorten the song title "Enjoy the Silence" on Gboard by simply typing "ets". You'd probably be put off by someone putting abbreviations for song names, but if I could have used this feature 20 years ago, I could have easily saved six months of my life.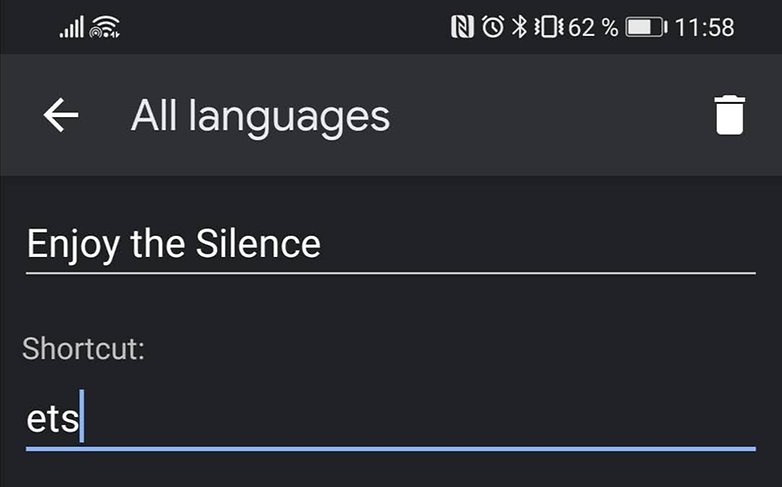 To create your own abbreviations for your words, strings, or phrases, you need to go to the dictionary in Gboard settings. Tap "My dictionary", select the desired language or "All languages" and then you can start with a tap on the plus sign at the top right. First enter the desired word or words, then optionally the desired abbreviation.
Of course, you have to make sure that you don't choose an abbreviation that you constantly use in a different context. "Enjoy" as an abbreviation for "Enjoy the silence" would be a hoax. Once you have done this and confirmed it, the desired term will be available to you in the future as soon as you enter the abbreviation. As shown in the image below, I type "ets" to get "Enjoy the silence" as a suggestion.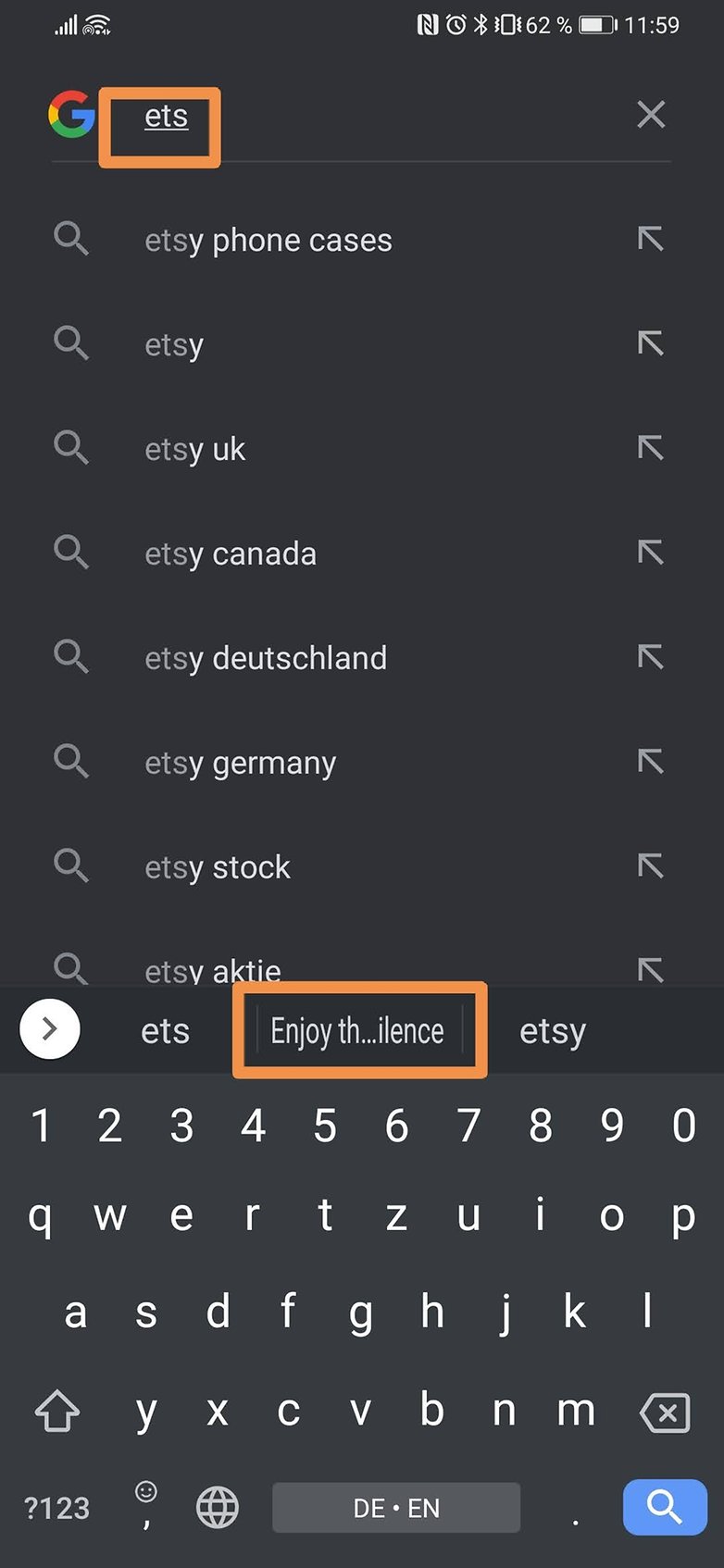 Caps Shortcut: When you need to SHOUT
Sometimes you have to speak loudly on the Internet and then use the swear words in all caps. You never guess which software keyboard has a shortcut for exactly that. In fact, it is very easy to make a written word capitalized if, for example, after writing a sentence you realize that you want to HIGHLIGHT a word.
In this case, double-tap the desired word to mark it. Then tap on the Shift key, i.e. on the up arrow on the left side. By tapping, you can toggle between lowercase, uppercase, and uppercase letters at the beginning.
Speaking of capital letters: You probably already know this tip, but if you need a capital letter at the beginning of a word, place your finger on the Shift key and then slide the desired letter, which is then capitalized before automatically changing to lowercase. case.
Delete multiple words at once
Once you've written angrily to yourself, you sometimes find that you've crossed the line, and you might want to delete the last two or three rants. Then you can go the old Drees way with Gboard and hold backspace for a long, really long time, or alternatively tap backspace a hundred times over and over again.
Or you can go the smarter route, put your finger on the backspace key (ie the one to the right of the "m") and just swipe left. In this way, you directly mark a complete word or, if you wish, several. If you swipe left too fast and mark too much, you can also fix it by swiping right before you take your finger off the screen.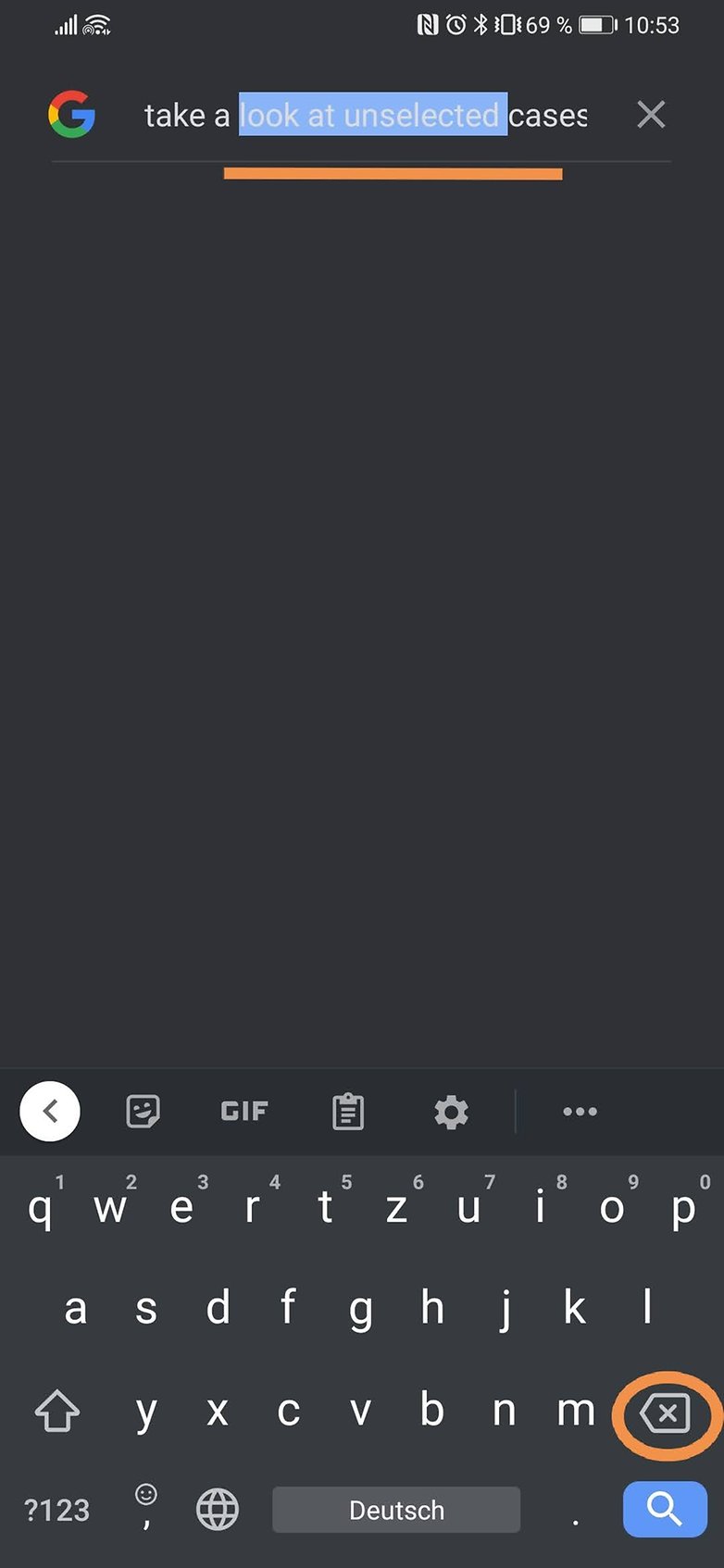 If that doesn't work for you, go back to Gboard settings. Under "Slide Write" you will find the item "Enable Motion Erase", which must be activated for this.
But what do we do when we suddenly realize that we shouldn't have removed it after all? After all, with the power to erase what you write comes responsibility. No problem as long as you haven't continued writing. Because after deleting, you will find exactly the deleted passage as a word suggestion and thus you can restore everything with a touch of your finger.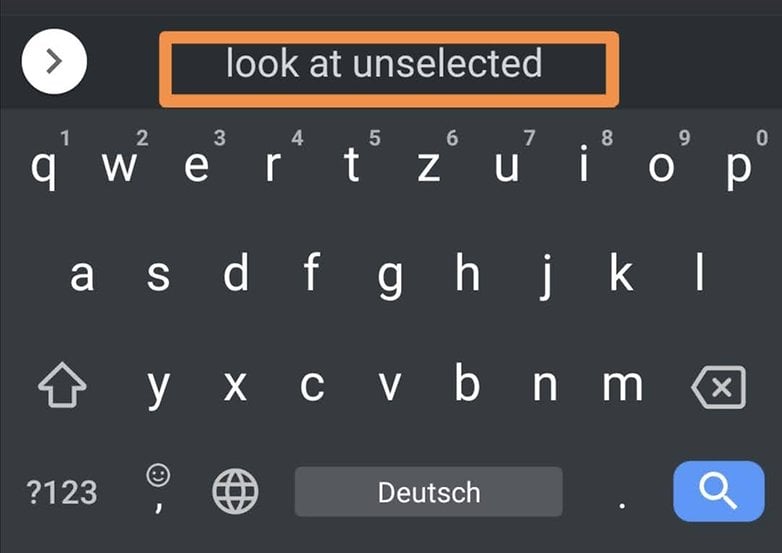 Make an incorrectly swiped word disappear
While we're on the topic of deleting what you've typed, here's a quick tip specifically for the swipe faction: If you're swiping through letters and you're not getting the result you want, just hit backspace long enough for the word whole thing disappears again.
Use of smarter punctuation
Two cool features can be found in the settings under "Text Correction". Among other things, you can see "Replace double spaces with periods" at the bottom. This means nothing more than you just have to hit the space bar twice at the end of the sentence after the last word and you have set the period and left the next space.
Also under "Text Correction" you can also select to automatically insert a space for each punctuation mark that you set manually. However, this feature is currently only available for the English (US) language.
Delete suggested words
Basically, it's really helpful that Gboard gives you suitable suggestions for words you might want to type next. On the other hand, it's less practical if there are suggested terms that you know very well you'll never need, for example, if you've misspelled a word and saved it.
You can also make these words disappear from the suggestion list, and that's surprisingly easy too: just tap and hold on the suggested word you don't need and you can tap the term in the virtual bin.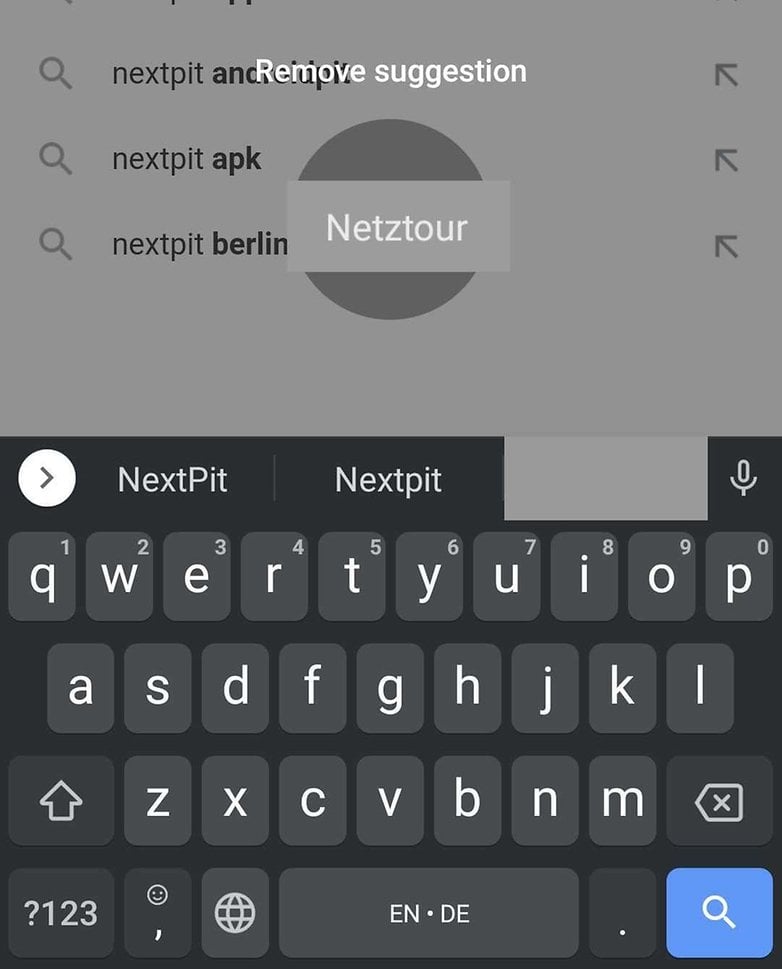 Hands too small? This is how the keyboard moves
I'm big. Pretty big. So big that I could probably operate my TV with one hand if I had to. However, many users are overwhelmed by the large screens of smartphones and find it difficult to use the keyboard with one hand without any problem. In this case, you can dock the entire keyboard on the right or left side.
The shortcut for this: tap on the comma and hold down the key. A menu will appear where you will see three icons and you will slide the one on the left that looks like a hand over a square.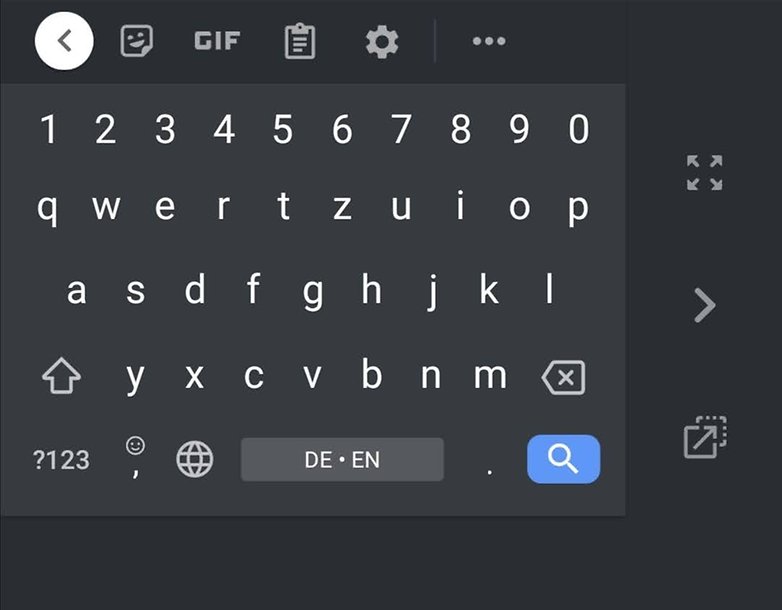 The keyboard gets a bit smaller and slides to the left side. At the top of the image you can now see three symbols. Either go back to full size with the top one, use the arrow to dock the keyboard to the right (see below) or tap the bottom symbol and you can move the keyboard around freely and also change its height slightly.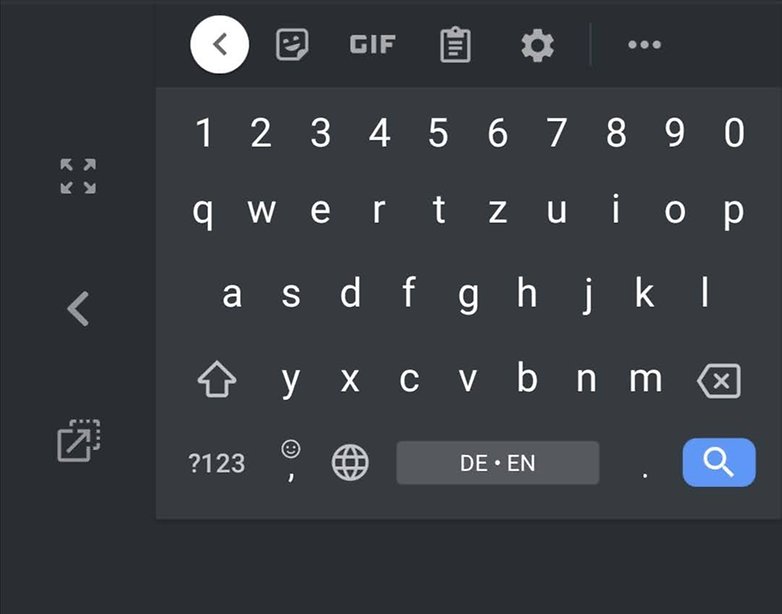 And the fractions?
Have you ever faced the problem of not knowing how to display fractions on your keyboard? Personally, I don't think so, but in case this is a problem for you, of course, here's a tip too. You can already imagine that this is also very simply implemented in Gboard, otherwise we would not mention it here. So just long press on any digit and the corresponding fractions will appear as if by magic. Pure witchcraft, right?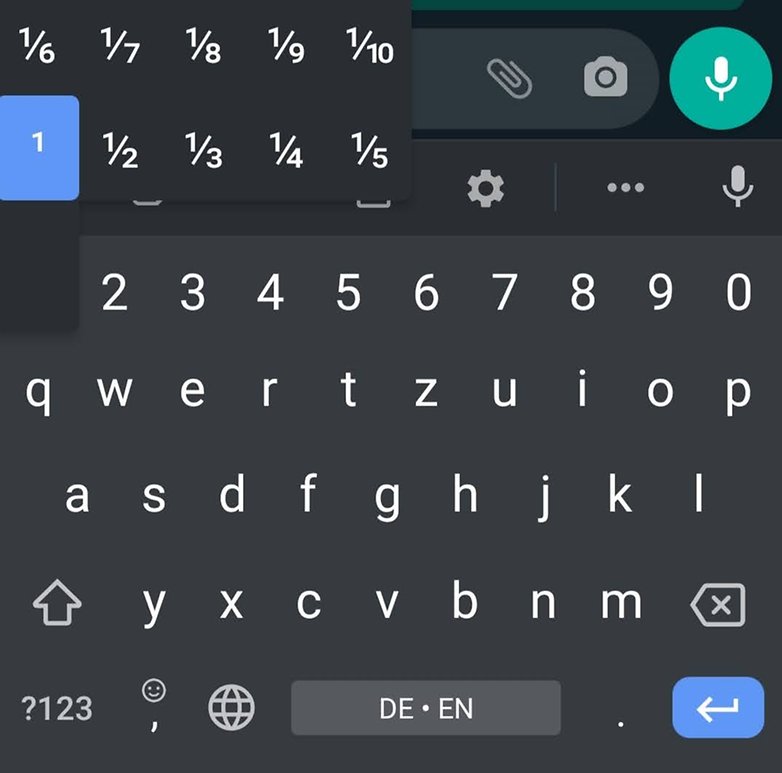 We've now rounded up a few shortcuts that can certainly sweeten typing (or swipe) for some. But there is definitely more to get out of Gboard. Feel free to tell us in the comments what tricks from the Mind=Blown department you can use, or let us know in general what software keyboard you use.