Error messages like "Gboard has closed", "Gboard has closed repeatedly", or "Gboard has stopped responding" are more common on Android. You can replace "Gboard" with any app, because known error messages indicate issues with Android apps. Google's operating system doesn't usually show you exactly what the problem is. For this reason, you will learn in the following instructions how to repair apps on Android.
Table of Contents:
Gboard was canceled and Co.: What's the problem?
Fix Android apps: these methods will help

Update app
Clear app cache and data
reinstall app
look for alternatives
Last hope: restart your phone
Special update in March: Android apps suddenly crash
In March 2021, there will be an increase in app crashes due to an issue with Android. The manufacturer Samsung and many application experts on the web recommend removing the latest "Android System WebView" update to fix the problem. This is how you have to do it:
Control your mobile phone settings
Find the "System WebView" app here (you may need to use the three dots at the top right to show system apps)
Select System WebView
Here tap on the three dots at the top right again and uninstall existing updates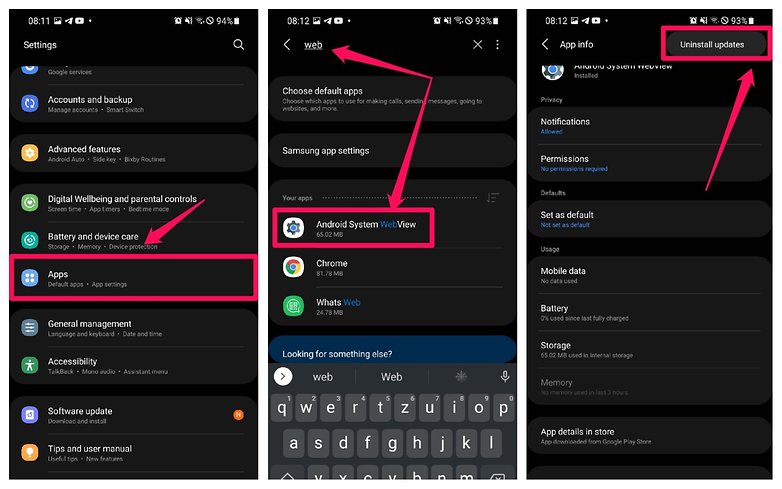 As The Verge reports, Google is currently working on a fix to the problem, which may be rolled out with another system app update. Keep an eye on our home page and stay up to date!
If you've just switched from an iPhone to an Android phone, or if you're seeing the error message for the first time, let's start by clearing up the basics. Android is an operating system and thus represents the basis for the use of apps and system apps. Your mobile phone runs them in the foreground or background. If you are currently reading this page on your mobile phone, your app will run any smartphone browser in the background.
Apps like WhatsApp or "Gboard" run in the background. Gboard is the pre-installed virtual keyboard on most Android phones and it kicks in whenever you want to type words or numbers in a field. If something goes wrong when running the app, the files have been provided with errors, for example due to an update, so the following error messages appear using Gboard as an example:
Gboard has been canceled
Gboard was repeatedly canceled
gboard not responding
Not working is of course the point behind any app. So, there are some methods that you can use to fix the broken app. But how does that work in detail?
Update app
Perhaps something went wrong with the latest update and the manufacturer has fixed it in a new update. Although updates are downloaded and installed by default on Android, of course you can also check for app updates yourself. You need an active internet connection and you need to be logged into your Android phone with an active user profile. All prepared? Then take a look at the following instruction pictures: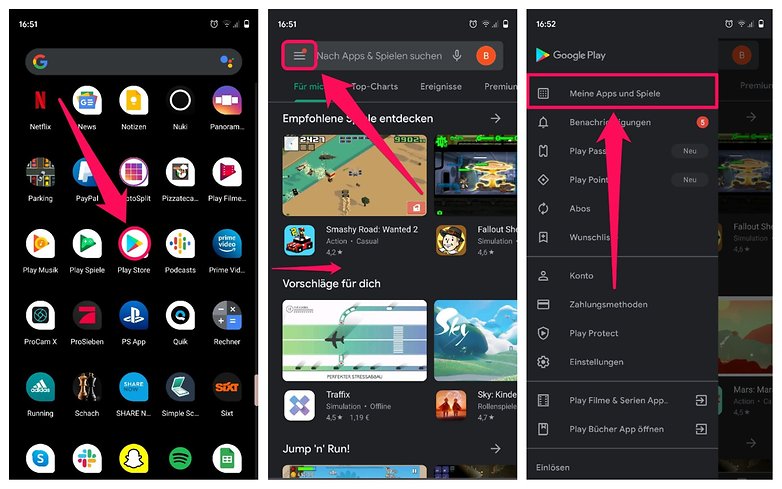 Open Google Play Store
Open the sidebar by swiping from the left edge of the screen or through the three bars to the left of the search bar
Tap here on "My apps and games"
Check if there are pending updates for the corresponding app
If so, please install it with a tap on "Update"
If your app's problem child wasn't part of the new updates, you don't have to wait for an update in the future. Instead, let's move on to the next step in the guide.
Clear cache and app data
Because for an app to work on your cell phone, it has to temporarily store files. To do this, each application on your mobile phone creates application files and its own cache. If an error appears here, it can also lead to crashes. For this reason, Android has two buttons with which you can delete the two exchange memories. However, please note that you will need to sign in again with some applications and the default settings will be lost. Streaming apps like Spotify or Netflix also lose your downloaded files.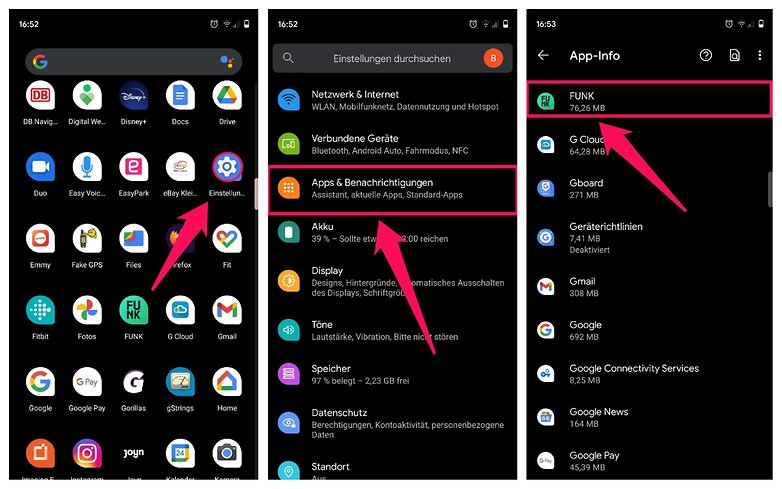 Control your mobile phone settings
Tap "Apps & Settings" or "Apps" (depending on the manufacturer)
Search here for the app that is currently causing you problems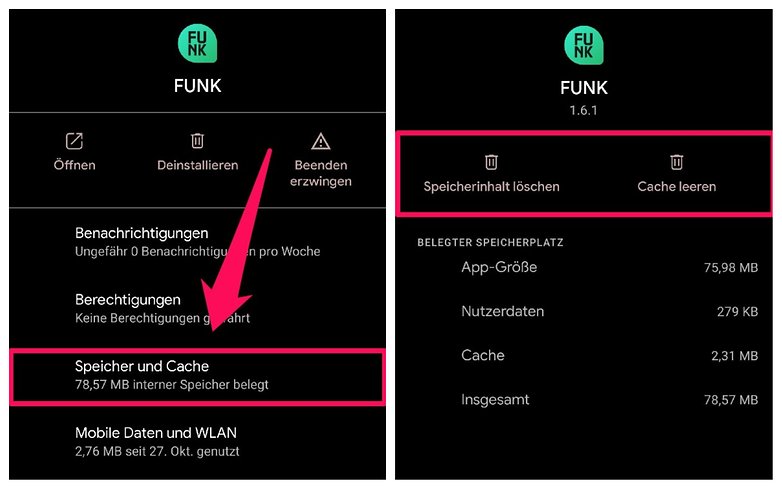 You will then see an entry for "Memory and cache" – select this
Touch the entries "Clear memory contents" and "Clear cache" here.
If you want to be a bit more careful, just clear the cache first and see if this solution works on its own.
With any luck, the app will work again with a fresh cache and absolutely clean memory. Otherwise, you can recover the application files on your cell phone from scratch.
reinstall app
You can stay relaxed in your app menu and uninstall the app here. The warning that you need to log in again and that your settings and app data may be lost applies here as well. Just follow the instructions below again: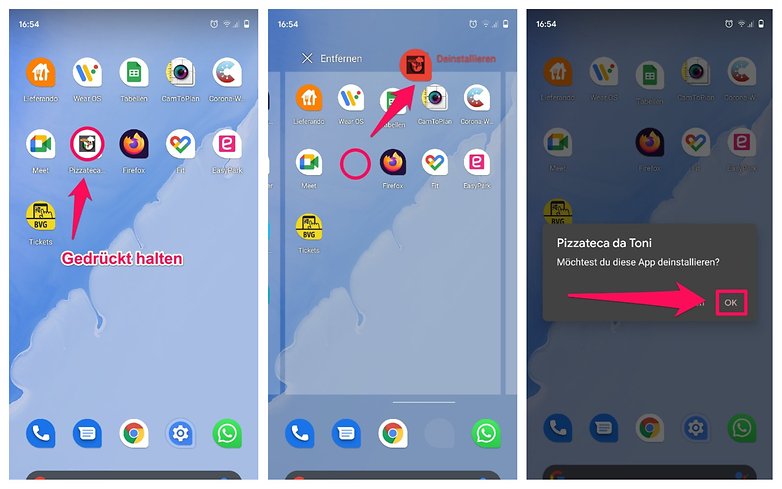 Uninstall the app via your home screen (long press and drag to the remove field) or via the app settings from the previous step
Now go to Google Play Store and download the app again
It's true that most users already know how to install apps, but we want to pick Android newcomers as well. However, the Android pros among you will be annoyed at this point and notice that some apps (including Gboard) cannot be uninstalled at all. In this case, read on to the next step!
look for alternatives
If an app like Google Gboard just won't install and you can't fix it, it's not an immediate disaster. After all, Android has the advantage that almost all system apps can be replaced with others. So looking for an alternative is our next tip when an app dies. You will find practical tools in the Google Play Store to find a good alternative.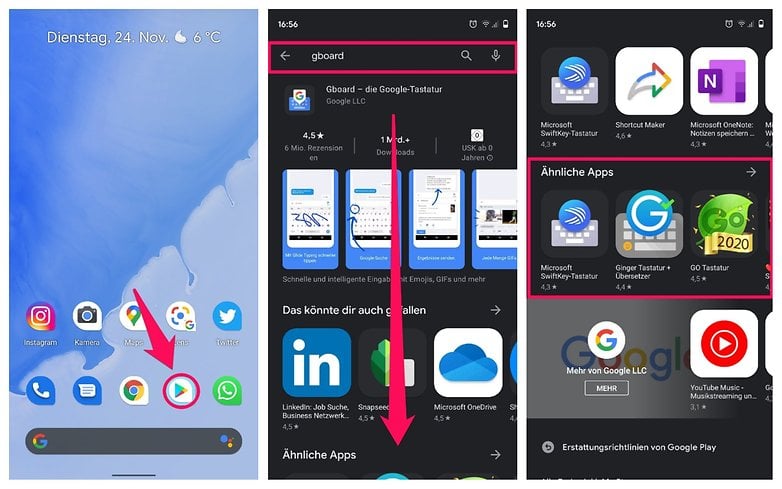 Control the Google Play store
Find the app you want to replace here and select your contribution
Now scroll down until you reach the entry "Similar Apps"
Select an app from the list. It should offer the same features as your broken app
Of course, an alternative app requires a bit of familiarization time, but it's often interesting to discover the new possibilities of alternative apps. If you don't want to like the alternatives at all, there is a last resort, but it's a true toggle solution.
Last hope: restart your phone
Because the fact that an app no ​​longer works can also indicate a bug in the operating system. Therefore, in case of recurring app crashes, it makes sense to restart your Android smartphone. Since we will shed more light on the subject in another article, I refer to the following article in this case:
Also, I always recommend protecting data with an Android backup for such rabid projects. The following article will help you with instructions and tips for backup applications:
In most cases, your application will work after a fresh installation of the operating system at the latest. However, very few users will stick to one app so strictly that they will set up their entire smartphone from scratch. Therefore, you have the opportunity to talk with other users about your experiences and problems in our comments area and in the NextPit forum.
What do you think of this guide? Did she help you with her problem? Let us know in the comments and mention which operating system and which app she used.
Read more on NextPit
This article was reviewed and republished on November 25. Comments have been preserved under the original article.