to section
S9 Battery and Charger Questions:
Does the Galaxy S9 master wireless charging?
The Samsung Galaxy S9 can be charged wirelessly at a Qi charging station. Unfortunately, charging power is limited to five watts with any Qi charging pad. You can only fast charge the Galaxy S9 wirelessly with Samsung proprietary chargers, as long as you connect the charging pad to a Samsung charging cable that is sold separately.
However, the Galaxy S9 cannot charge other devices like smart watches with the induction coil. Wireless PowerShare is only available from Samsung on the Galaxy Note 10 or S10 families of devices.
The Galaxy S9 suddenly has worse battery life
A form of wear and tear occurs on the battery at a chemical level. Therefore, it is necessary to change it after a certain time. Unfortunately, Samsung has glued the case together to make it difficult for you to get to the battery yourself. We recommend that you check with Samsung yourself, as the manufacturer will be responsible for any damage that may occur. A battery replacement for the Galaxy S9 with Smart Repair costs a fair 73 euros.
Samsung has general tips for extending battery life on the Galaxy S9 on a help page. We also have an extensive article on the subject:
The Galaxy S9 no longer charges
If the battery of your Galaxy S9 no longer charges even though the charger is connected, this can be due to two causes. The connected charger or charging cable is not OK; then you have to buy a new one (see link above). Or your software, that is, an application or the operating system itself, consumes too much power. Then, on the one hand, the tips mentioned above against poor battery life, and on the other hand, our tricks will help you if a software update causes problems on your Galaxy S9 (see below).
Galaxy S9 and root
Some Galaxy S9 models will soon no longer carry a manufacturer's warranty. And no later than 2022, Samsung will stop providing security updates. So, at the latest, it's appropriate to take control of the software on the Galaxy S9 into your own hands.
The hacker community offers everything you need. There is the official custom recovery TWRP for the Galaxy S9. Root succeeds as usual via Magisk (not yet on Android 10). And various hobbyists are optimizing custom ROMs for the Galaxy S9 and S9 Plus. With these, however, the devices lose support for VoLTE and VoWIFI.
Questions/annoyances with Galaxy S9 software updates
Will the Galaxy S9 get Android 10?
The Android 10 update for the Galaxy S9 has been on the way since January 2020. It should be available for all current devices no later than April. We compile the latest news about it in a separate article:
Galaxy S9 hangs after update
Often users report that Galaxy S9 runs slower or even crashes after Android update. However, this can be normal as the cache gets emptied, especially with big system updates. Your Galaxy S9 must first fully recharge a large number of content and app components. This ensures that your smartphone feels slower the first day or two after the update and charging shocks may occur. These should fix themselves.
If you experience crashes or performance is still poor, you can run "Wipe Cache Partition" in the recovery menu (below).
Battery problems after updating the S9
If your Galaxy S9 battery drains faster after the update, hopefully you can fix this problem with the tips above. If not, a factory reset may be required keeping the new version of Android. That is our next point.
Galaxy S9: Reset (reboot or reset)
Your Galaxy S9 can no longer turn on or off? Then certain key combinations will help to force restart or force shut down Galaxy S9.
Forced Reboot: Press and hold Volume Down + Power for seven seconds
Reboot to Recovery: Power on Power + Bixby + Volume Up
Forced shutdown: Select "Shutdown" in Recovery
Download mode: On + Bixby + Volume down when power on
If you do a factory reset with Galaxy S9 i.e. you want to reset it to factory settings, you need to backup your personal data first and then delete it. We make a distinction between the terms in the separate article:
We recommend doing a factory reset of the Galaxy S9 through the system interface. You can also reset the device via recovery (see above). However, the Google Reactivation Lock blocks use of the device and requires the username and password of the previous owner. Samsung may remove this as a service.
Dual SIM and eSIM on the Galaxy S9
Most of the Galaxy S9 models sold in Germany are dual SIM smartphones. This can be particularly useful when traveling to avoid roaming charges. Personally, I leave my Drimsim travel SIM card permanently in the second slot and simply disable the slot to save electricity when I return to Germany.
Unfortunately, the alternative plastic-free eSIM is not compatible with the Galaxy S9. Only a few Pixel and iPhone models, as well as the new Moto Razr, new iPads, and a growing range of wearables use the embedded SIM card.
Dual WhatsApp on the S9: In line with dual SIM, the Samsung Galaxy S9 also supports "Dual Messenger". This can be found in the settings under "Advanced Features". In the best WhatsApp alternative, Telegram, account switching is natively integrated and does not require Samsung's workaround.
Galaxy S9 Processing Questions
Is the Galaxy S9 waterproof?
The Galaxy S9 is waterproof to IP68. Therefore, it should survive half an hour in fresh water at a depth of 1.5 meters (without soap or salt) without damage. However, when it hits the surface of the water, higher partial pressures can occur, so with a bit of bad luck, a drop of water can reach the circuit board and cause electronic damage.
In the event of water damage, the Galaxy S9 becomes a service case, see below.
Protective cases for the Galaxy S9
To avoid costly repairs, protective covers for the Galaxy S9 are essential. These are available in different formats. The silicone case is a soft bed that protects the back and edges from bumps and scratches. However, this is only comprehensive protection for your Galaxy S9 in combination with a protective film.
Then there are the flip covers that turn your Galaxy S9 into a kind of notebook. Samsung's special models are the Clear View Standing Cover, through which the always-on display can still be read, and the LED View Cover, which has its own LED display.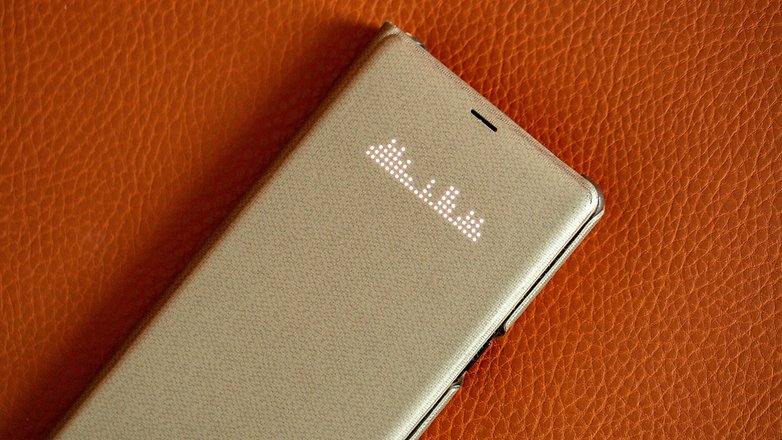 Repair Galaxy S9
If the glass on your Galaxy S9 is broken, you have water damage, or the battery is defective, Samsung will help you with the repair. With so-called smart repair, you can send your faulty Galaxy S9 to the workshop, have it repaired on the repair bus, or hopefully have it delivered soon to a partner store.
Repairs are billed at fixed prices. Examples of the cost of S9 repairs:
During the warranty period: Free
New battery: 73 euros
New screen: 183.86 euros
New glass for the rear: 84.22 euros
Front and rear glass breakage: 199.9 euros
Water damage: 308.13 euros
New camera / buttons / USB port: 75.33 euros
Unlock screen, correct software errors: 67.60 euros
Mobile phone insurance can cover these costs.
Galaxy S9/S9+ Camera Tips
Auto super slow motion
To get the most out of automatic recording with the new Super Slow Motion, you need some preparation. First you need good light and second you need to be far enough away from the scene to capture as much as possible. A tripod is optional but recommended. You need to start with as many still shots as possible, and when the center box turns yellow, the smartphone is ready to step in and activate super slow motion if there's any movement. The video continues to record and super slow motion can start again as soon as the buffer empties again after about two seconds.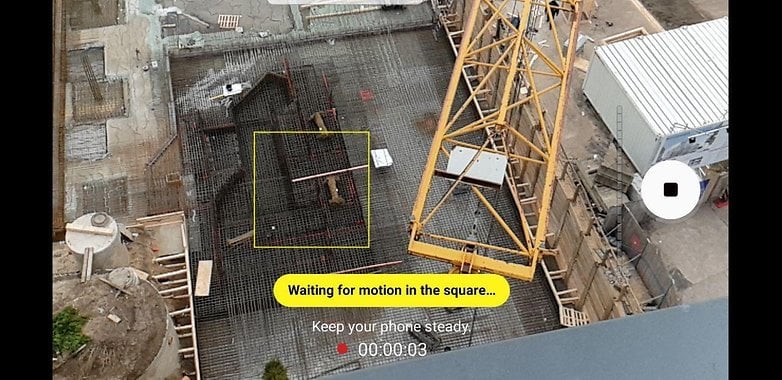 Create a GIF with a super slow-motion clip
After creating a slow motion video, you can create a GIF from it, directly from the gallery. Locate the super slow motion video and swipe from the preview to the screen to open the video details. Just below the information we have the clip in three versions. Tap on one of them and you can edit and save the GIF.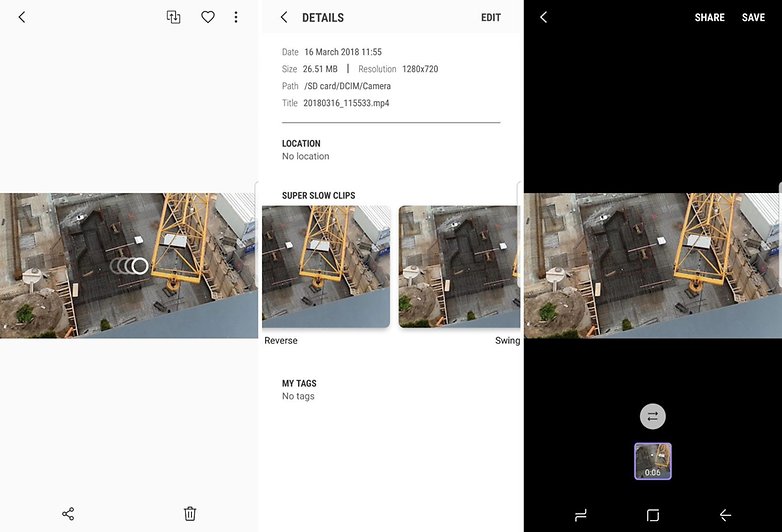 Enable normal slow motion
Slow motion mode is off by default. However, super slow motion is sometimes too fast and too short for home videos, so I recommend turning on normal mode, which records at 1080p at a rate of 240fps, which isn't bad after all.
To enable normal slow motion mode, go to camera settings and edit camera modes. Among the main camera options, there is also normal slow motion to choose from.
Bokeh effect everywhere
With the Galaxy S9 and S9+ you can create a bokeh effect on both the main camera and selfies. Make sure you choose the right option: selective focus for the rear camera and selfie focus for the front camera. For the main camera, the foreground should be within half a meter of the lens for good results. After shooting, you can adjust the blur to the background or foreground depending on what you want to emphasize.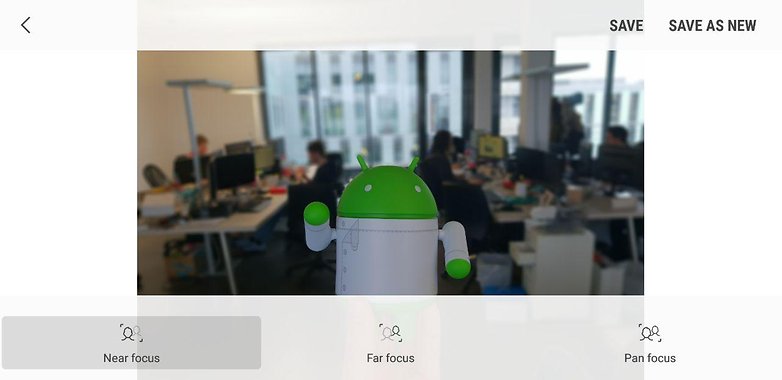 A unique bokeh effect for food photos is also available. There is an appropriately named option for the main camera. Touch the screen with your finger to focus on a point, the rest of the scene will be blurred.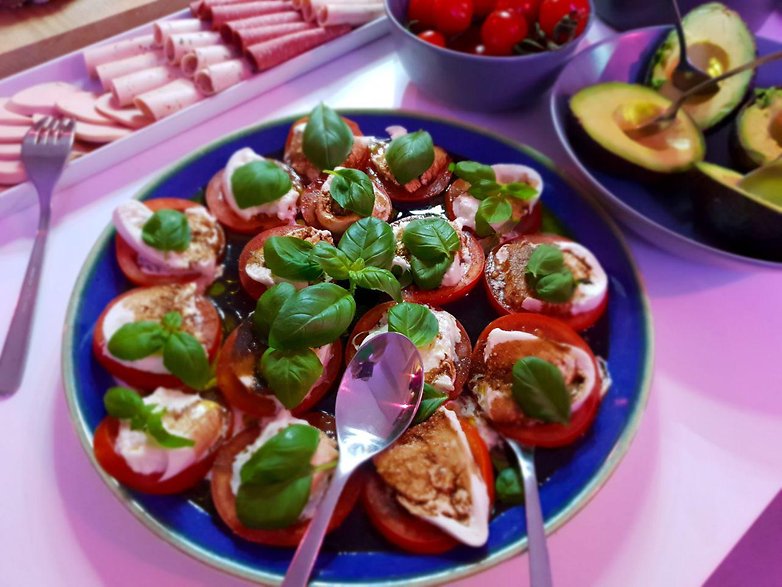 Tips for Galaxy S9/S9+ Edge
edge lighting
If you have your smartphone upside down, you don't have to miss any notifications. go into Settings > Display > Side Screen and switches side light a. You can also customize it to your liking from here.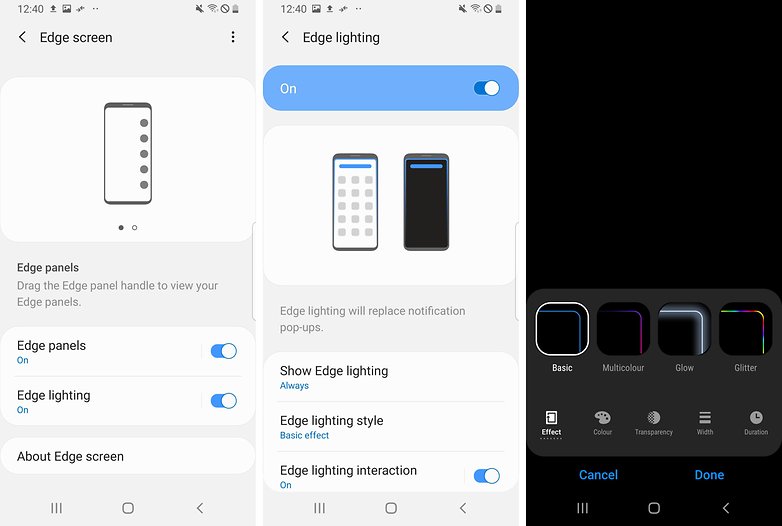 Tips for Bixby on Galaxy S9/S9+
Take advantage of Bixby Voice by automating tasks. In my bixby you can see them on the second map quick commands. Here you can add a new quick command. You'll need to speak the message for Bixby to recognize it, and then you can add any messages you want to trigger. When you say that word or phrase, Bixby will do what you tell it to do.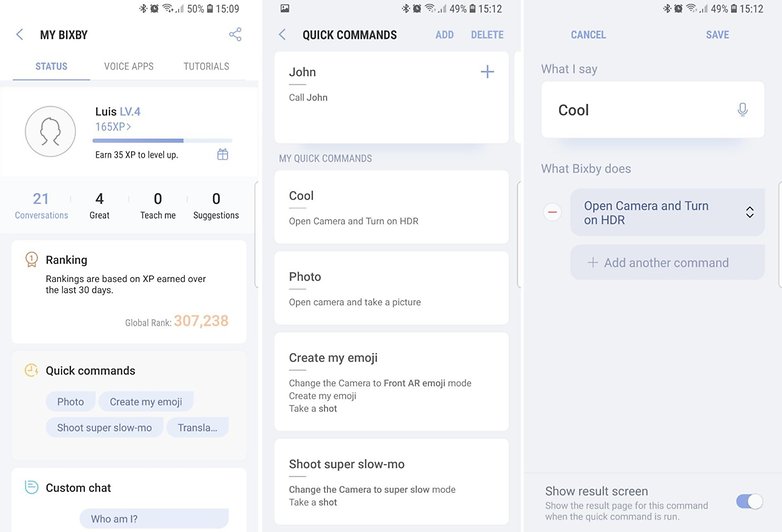 If you use One UI on your Galaxy S9 or S9+, we've collected more tips and tricks for you here:
Do you have any other top or favorite hacks that aren't on this list? So put it in the comments!