With Share Play you can watch your favorite series and movies with your family, even if they are not physically present. Because the feature shares your media content in iOS 15 through Face Time. In this guide I will tell you how you can use Share Play.
Announced in September, iOS 15 came without one of the most anticipated features: SharePlay. However, an update released in October finally brought the FaceTime option to iPhones and iPads. Unfortunately, the feature is not yet supported on Mac devices; According to Apple, an update to macOS Monterey will bring SharePlay to Mac computers later this year.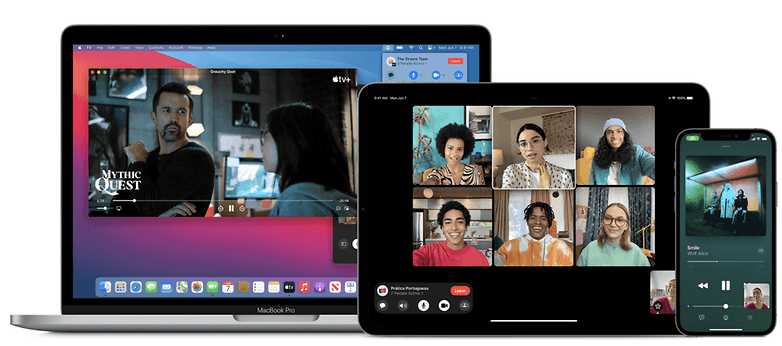 With SharePlay you can share content from services like Apple TV, Apple Music, Fitness+, and other compatible apps from the App Store. Because the controls are shared, anyone on the call can pause, play, rewind, and fast-forward the stream.
The feature also detects when someone is speaking while a video or song is playing and automatically lowers the volume of the audio stream. And if you use an Apple TV, SharePlay can also be brought to the television. This shows the content, the video call continues through FaceTime.
To work, SharePlay shares the screen of your iPhone or iPad. In this way, anyone participating in the conversation can see what is happening on the screen in real time. It is also necessary that they all be in the same country, otherwise services such as Apple TV + will not work at all since the catalog varies by region.
What features does SharePlay offer?
Here you can see all SharePlay features at a glance!


| function | description |
| --- | --- |
| look together | Watch movies and series on FaceTime calls with your friends. Enjoy an interactive connection in real time while watching the same content. |
| listen together | Listen to music with your clique directly on FaceTime calls. |
| share screen | Share your FaceTime calls with websites, apps, and more. |
| Synchronized playback | Pause, fast forward and rewind, or skip directly to another scene – playback continues in sync for everyone in the room. |
| smart volume | Dynamic response volume control automatically adjusts your tone when you or the other person speaks. |
| Shared music queue | With shared listening, any caller can add songs to the shared queue. |
| Compatibility with multiple devices | Stay connected with FaceTime on iPhone while watching videos on Apple TV. |
| Connect via audio, video and text | Access your group conversations in Messages using the FaceTime controls and choose the type of communication that's right for you. |
SharePlay-enabled services to date include Apple TV+, Apple Music, Apple Fitness+, Apple Podcast, Disney+, Hulu, HBO Max, Paramount+, Twitch, TikTok, Pluto TV, MasterClass, and NBA.
---
A new: In order to use SharePlay, all participants must also have an active subscription to the respective streaming service. Otherwise the feature will not work!
---
Set up SharePlay during a FaceTime call
Setting up SharePlay during a FaceTime call is very easy. I tested the function before with my colleague Johanna and everything worked fine. To do this, follow these instructions:
start one face time call (up create link either New FaceTime);
When the participants are active, click the top right of the End Call button share my screen
A pop-up message will appear on the screen asking for the option SharePlay choose to start the joint session. Important: Remember that the information that appears on your screen is visible to all participants
All participants in the call must accept the invitation to use SharePlay to accept
Now you and your guests can see, listen and comment on shared content. With the Apple Fitness+ service, you can also train and even meditate in a group. Namaste!
| | | |
| --- | --- | --- |
| FaceTime: Share Play | FaceTime: Share Play | FaceTime: Share Play |
Another curiosity test: SharePlay cannot be used during FaceTime Link calls, which non-Apple devices can also join. Who knows, maybe in the future there will be better support for this feature even for those who are not part of the Apple ecosystem. You can find out how to share streaming content across devices in the linked article!
Are you satisfied with SharePlay or the function does not interest you? Tell us in the comments!