WhatsApp finally offers an easy way to transfer content from Android to iOS. Today, Meta will start rolling out a beta update for users of the WhatsApp beta program. It allows moving from Android to iPhone safely, including the transfer of chat histories, photos, videos and voice messages. In our instructions we explain how it works safely.
First of all, you should note that this feature is still in the beta phase. Currently, it is only rolling out to those who have signed up for the beta program. It is expected to take about a week before the feature is available to all users. As soon as we get access to the beta version, we will update this guide on how to transfer WhatsApp data from Android to iOS. So stay tuned!
Before switching from Android to iPhone
Starting last year, Android users had the option to easily switch from iPhone to Android, and now this feature finally works both ways. As of June 14, WhatsApp allows you to easily transfer your account information, profile photos, one-on-one chats, group chats, chat history, media, and settings from one operating system to another. Prerequisite: Use the same number on the old and new mobile phone. However, according to meta, you cannot transfer your call log or display name.
Finally, there are also some technical requirements like Android 5 or higher on your Android device and at least iOS 15.5 or higher on the iPhone. Also, you have to Download the Transfer to iOS app and install it on your Android phone. Also, before you start migrating content between operating systems, make sure you have the latest version of the WhatsApp app installed on both phones:
WhatsApp iOS version 2.22.10.70 or later
WhatsApp Android version 2.22.7.74 or higher
Important information: You must use the same phone number on both the old Android device and the new iPhone for this process to work.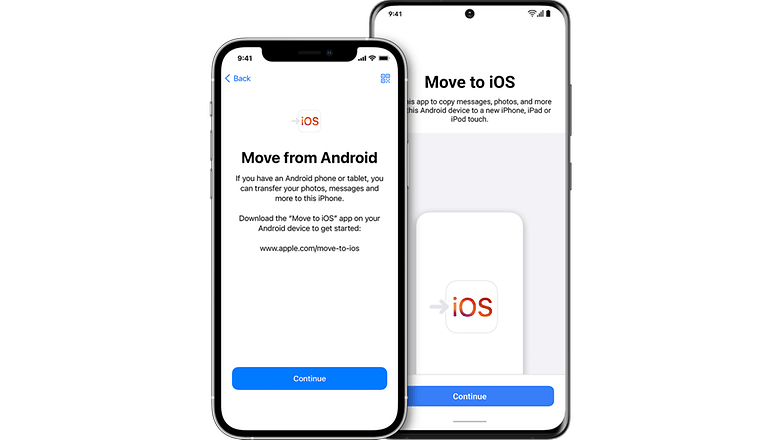 If all the above requirements are met, all you need is a brand new or factory reset iPhone. Just connect it with your Android phone via Transfer to iOS app and transfer your precious data from Android phone.
To transfer WhatsApp data from Android to iPhone, make sure both devices are connected to a power source and to the same WiFi network. If that's not possible, you can also connect your Android device to your iPhone's hotspot.
How to transfer your WhatsApp data from Android to iPhone
To transfer your WhatsApp chat history, photos, videos, voice messages and more from Android to iPhone, please do as follows:
On your Android device: Open the Transfer to iOS app" and follow the instructions on the screen.
A code will appear on your iPhone. If prompted, enter the code on your Android phone.
taps Continue and follow the instructions on the screen.
choose WhatsApp about him "transfer data" screen.
Tap on your Android phone start and wait for WhatsApp to prepare the data for export. Once the data is prepared, you will be logged out of your Android phone.
taps Continueto go to the application"Transfer to iOS" to return.
taps Continueto transfer the data from your Android phone to iPhone and wait for the app to confirm that the transfer is complete.
On your iPhone: Install the latest version of WhatsApp from the App Store.
Open WhatsApp and sign in with the phone number you used on your old device.
taps startwhen prompted and complete the process.
Done! Once you have fully activated your new device, your WhatsApp chats are ready for you!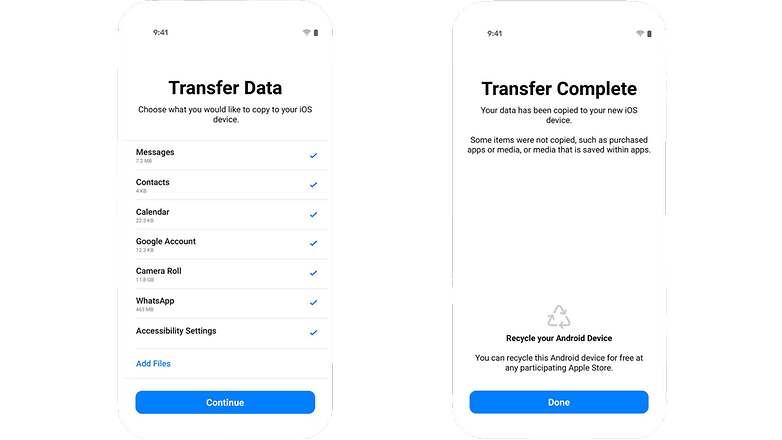 According to Meta, transferred data does not enter cloud storage as a result of migration as long as you do not create an iCloud backup. Also, WhatsApp cannot see the transferred data. It is also worth mentioning that your Android phone will still keep your data unless you delete the WhatsApp app or completely smash your phone.
As someone who recently switched from Android to iOS, I can assure you that this feature is really useful. Do you see it the same way, or do you have a different opinion? Tell us in the comments!