Table of Contents:
Important when repairing the SD card: Do not save any more data
Have you accidentally deleted files or important data seems to be missing? So under no circumstances should you write any more data to your microSD card. Because the areas with the accidentally deleted images may be overwritten. This reduces the chances of a successful recovery.
Tip: Quick help with SanDisk RescuePRO
MicroSD card manufacturer SanDisk has partnered with software company LC Technology to develop RescuePRO data recovery software. The Windows or Mac program, now around eight years old, also restores data from third-party microSD cards.
Although the software was last updated in August 2019, it still works reliably. It costs individually between 40 and 60 US dollars. However, if you buy a brand name microSD card SanDisk Extreme For ten euros, a license key for the $60 version of the software is included in the package.
Before spending any money, you can also download and install the software for free as a trial version. After a scan, you can see if your accidentally deleted or lost files on the microSD card are readable. However, for actual recovery, you need the license key.
Using a Mac or Windows computer and a card reader, you can download the software, install it with administrator rights, and save your data from the supposedly broken microSD card. Warning: After inserting the card, Windows will want to "format the drive". Do not do this under any circumstances as it will only make it unnecessarily difficult to recover data from your SD card. Instead, follow the steps in this video or in the software itself:
Repair microSD card with Windows
After successful data recovery, we want to make the microSD card readable to the smartphone again. When Windows recognizes the card, right-click on it in Explorer and then click Characteristic. Then switch to the tab instruments and click on the area bug checking in "Check it out now…"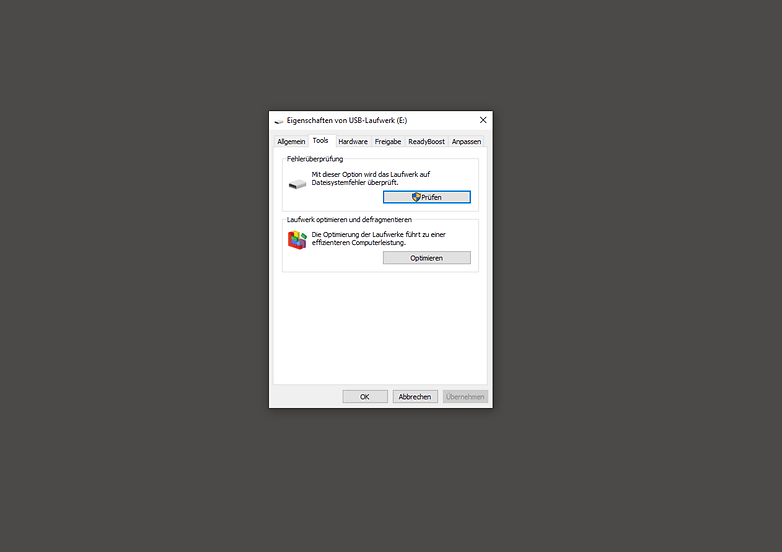 After an initial verification, the microSD card will be repaired. If all went well, you can access your data again.
If Windows doesn't immediately recognize your microSD card, this trick will help
Open team management. That works, for example, for your in start press and then the word Computer management types Then click on the tree on the left disk management. When you see your microSD card in the right pane, right click and then click Change drive letter and path…
Change, add or remove drive letters – Windowspower
A new view will open and you will have to open it first. Add Click and then assign a drive letter for the microSD card. When you're done, it should be visible in Windows Explorer and you can repair the microSD card as described above.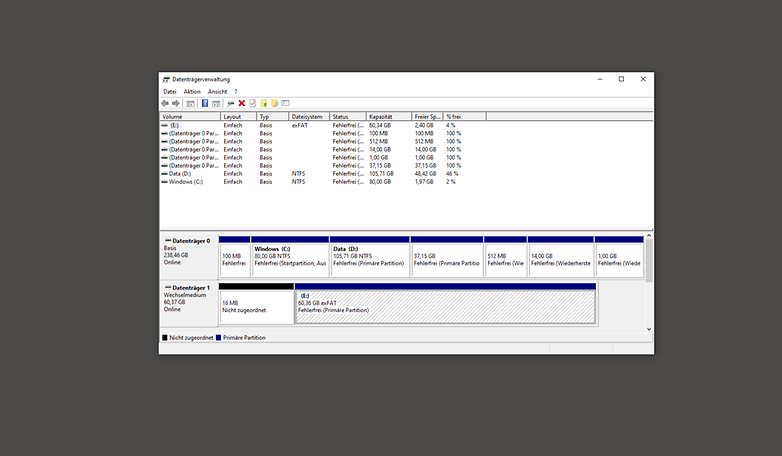 In addition to the tools provided by Windows, you can also repair your SD card with external programs. However, you may have to spend a little money. Here are some common solutions.
microSD card data recovery with software
| | disc excavator | EaseUS Data Recovery Wizard | R Tools R Studio | PhotoRec |
| --- | --- | --- | --- | --- |
| license | €14.99, free for Linux | $90 | $79.99 | Free (FOSS) |
| operating systems | Windows, Mac OS, Linux, Android | Windows, macOS; Apps available for Android and iOS | Linux, Windows, MacOS | Windows, Linux, MacOS |
| Works with damaged file systems | Yeah (dig deeper) | Yes (deep scan) | Yes | Yes (test disc) |
| Root (Android) | Optional | Yes | well there is no android | well there is no android |
Repair microSD card and recover files with DiskDigger
If the above tips didn't work, luckily there are several tools and programs on the internet that you can use to repair your microSD card. One of them is DiskDigger. The program can be used for free during the trial period. A single user license for one PC costs $14.99.
After downloading and installing DiskDigger, launch the program and select your microSD card. Click the button with the inscription three times next. DiskDigger will now scan your microSD card. This may take a while, but it is completely normal. The found files will then be displayed.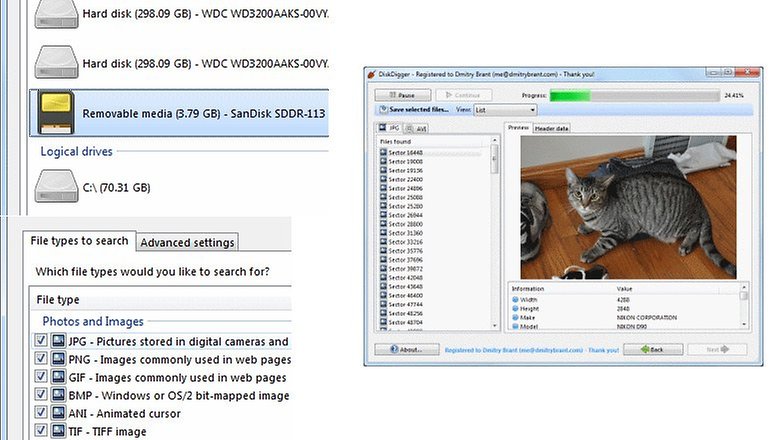 Now select the files you want to save in the left view and click Recover selected files…. Now all you have to do is select where to save the files and click okay you finish the process.
Repair microSD card with Android and root
If your smartphone is rooted and you prefer to fix microSD card directly from your smartphone, there is also an Android version of DiskDigger on the Google Play Store. With the free version, you can recover images (JPG and PNG) and videos (MP4 and 3GP). The Pro variant also offers the ability to repair other files on the microSD card.
DiskDigger for Android also has a mode that works without root access. However, this does not reconstruct the original files, but rather temporarily stores preview images of the originals. Therefore, the rootless version of file recovery can only recover lower resolution images.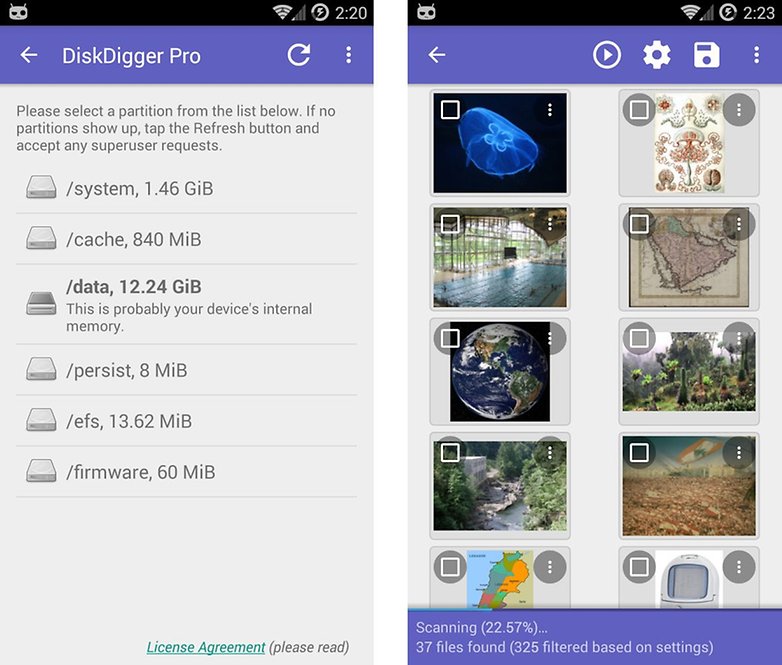 The procedure in Android is analogous to the one described above. However, you should be aware that the developer himself claims that the Android version of DiskDigger is not as efficient at repairing microSD cards as the Windows version. Also, your smartphone must be rooted, because without extended system access, the app can only rudimentarily serve its purpose.
Recover deleted files with Mac OS X
You can also restore data on microSD cards with your Mac. The Data Recovery Wizard for Mac Free program, for example, is suitable for this. You download it from the manufacturer's website (www.easeus.de) and install it. Now connect the memory card to your Mac and launch the program. You don't have to torment yourself with any options or menus with this software, but the Data Recovery Wizard walks you through the process step by step. So you can select the memory card in the course, as well as the types of data you want to reconstruct.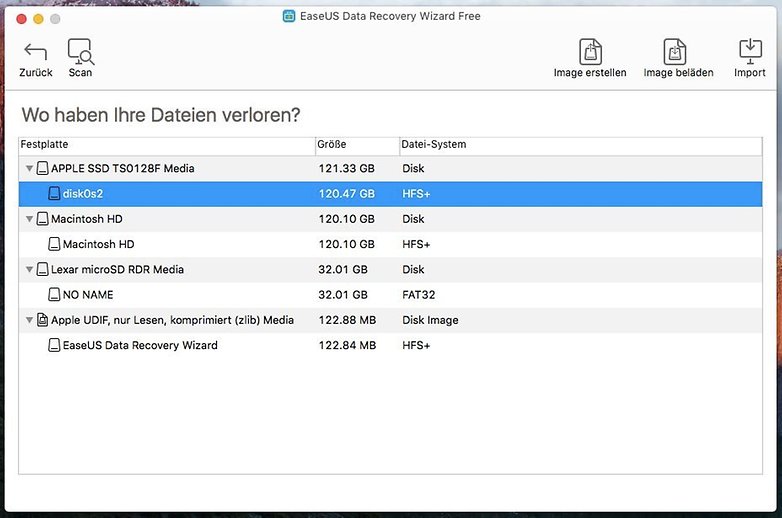 After a short scan, the app shows you which files can be rebuilt. For example, files you accidentally deleted appear here. A deep scan of the memory card is also optionally possible. In the window that appears, you can select the files that you have lost.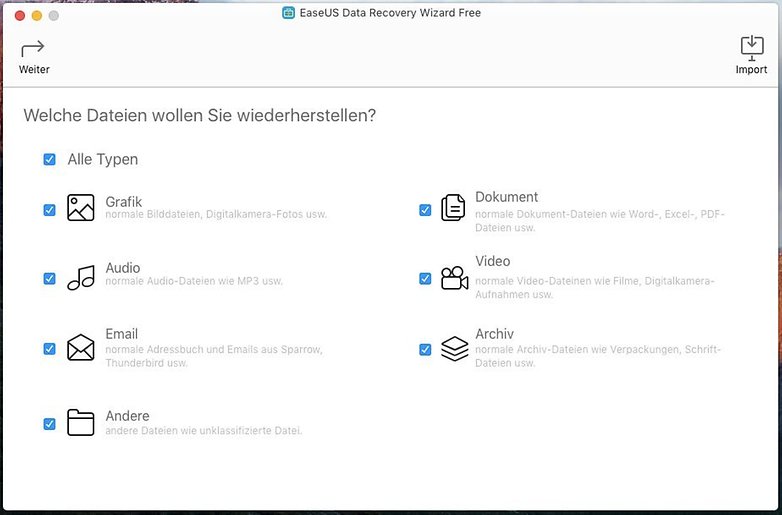 In the last step, select the new storage location for the file, because restoring the file to the source doesn't always make sense, especially if the SD card is faulty.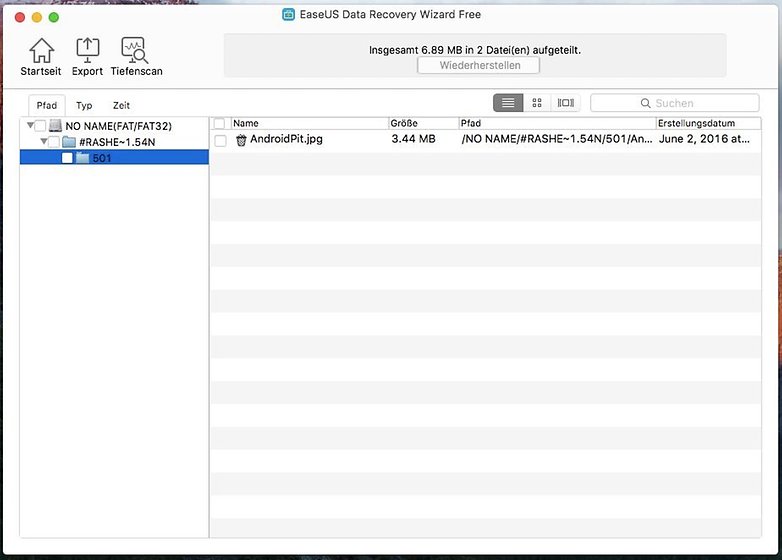 The Data Recovery Wizard is also available in a Windows version. The free version only recovers 2 GB of data. If you need more, you have to buy the $89.95 version.
studio r
Similar to DiskDigger, R-Tools software works with a graphical wizard; that is, a step-by-step wizard for recovery. The free version is limited to Windows file systems and only the expensive and paid version recognizes the relevant ext3 on Android. Much of the documentation is in English only.
PhotoRec
PhotoRec is an advantage of the free TestDisk file system recovery tool. It's free and open source (FOSS), but it only comes as a command line tool. But don't let that discourage you. Because the official step-by-step instructions are completely in German.
Hire a data recovery service provider
If you can't recover it yourself, hiring a service provider could save you time and frustration. One option would be Recoverfab. You can send your damaged microSD card there and then download the recovered data from its FTP server. The prices of a 32 GB recovery range between 300 and 500 euros.
Decrypt encrypted microSD cards
If your microSD card was encrypted as internal storage and is suddenly unreadable, you should never reset your smartphone. Because then your microSD card key will also be lost and the data on it cannot be restored within a reasonable period of time.
Instructions for decrypting microSD cards formatted as internal storage on Android can be found on Android expert Nikolay Elenkov's blog.
Prevent next time: back up your data more often
Anyone who handles them more often may have already noticed: microSD cards can break suddenly and seemingly for no reason. Therefore, the contents of memory cards and devices should be backed up as soon as possible. So a defect is easier to deal with, and accidental deletion has practically no consequences.
Whether Android, Windows, iOS or MacOS: All systems have built-in tools with which your data and especially photos and videos are continuously backed up in the background; either in the cloud or on a private server or NAS (Network Attached Storage).
conclusion
If your SD card is no longer recognized, it's not bad news in most cases. Because both Android and operating systems like Windows, Linux or macOS have means to make problematic memory cards work again. It is definitely recommended to dig into the built-in microSD card repair tools first.
If that doesn't help either, you'll have to resort to special software, whether you like it or not. Our advice is to use the SanDisk solution, which you get for free when you buy some SD cards. So you benefit twice! Alternatively, you can use the free Windows/Mac/Linux PhotoRec/TestDisk software, so don't despair!