If you want to back up the data on your iPhone or iPad, for example before a major update, Apple has different options for creating a backup; wirelessly through iCloud or on your home PC or Mac. Here we explain the advantages and disadvantages of backup methods and how to create a backup step by step.
There are many good reasons to back up your devices regularly. In this way you can make backup copies of documents, photos, but also device settings and contacts. Because if the iPhone or iPad no longer works smoothly after an update, the only thing that usually helps is a fresh install. Here it is useful if a backup has been created beforehand. But even if the device is lost or damaged so much that you can no longer use the screen, the data is still available thanks to the backup. You have several options to back up your iPhone, iPad, or iPod touch.
Wired backup: free, but remember!
The "old school" method is to create a backup via cable on the PC or Mac. While Windows users can still do this via iTunes for Windows, Mac users have had the option. backup via Finder since upgrading to macOS Catalina. This backup option is free, but you should think about it regularly.
Create a backup for iPhone and iPad on Mac:
Connect your Apple device to the Mac through a USB connection
Confirm the reliability of the computer in the corresponding pop-up window
Open the browser
In the bar on the left, the Apple device is under "Places"
Select the device and scroll to the "Backups" section
Select "Back up everything on this Mac"
Backup can be encrypted
Click "Back Up Now"
In the device bar, you can see the backup progress by turning the arrows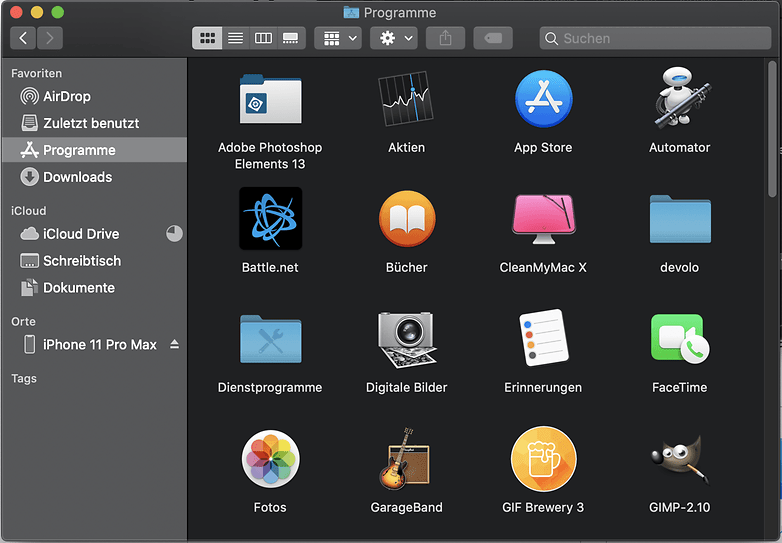 Create a backup for iPhone or iPad on a Windows PC
Microsoft operating system users can continue to use the old iTunes to back up their Apple devices. You can download iTunes for Windows (64-bit or 32-bit) from Apple's official website. The version of Windows must be at least Windows 7; you need approximately 400 MB of free disk space. Once iTunes for Windows is installed, open the program and find your USB-connected device in the list on the right. After clicking on the device, follow the instructions in the "Backup" area. Here, too, the backup data can be encrypted to protect sensitive health data, for example.
Create backup through iCloud
Much more convenient, but associated with costs depending on the size of the backup, is the option to save to iCloud. To do this, iCloud must be turned on on the iPhone or iPad. You can find the corresponding menu below Settings -> click username -> iCloud. Here you can first set which data is backed up. If you also use iCloud Drive, you'll need to subscribe to Apple's 50GB or 200GB storage plan. Otherwise, you can get by with less, depending on what you want to back up via iCloud. You can access the iCloud storage plan within the iPhone settings under "Manage Storage" and upgrade if necessary. Apple offers the following models:
5 GB of iCloud storage: Free
50 GB iCloud storage: 0.99 euros per month
200 GB iCloud storage: 2.99 euros per month
2TB of iCloud storage for €9.99 per month
To create the iCloud backup, proceed as follows:
Open Settings on your iPhone, iPad, or iPod touch
Tap your name and "iCloud"
Select "iCloud Backup" in the first block below
Tap "Back Up Now"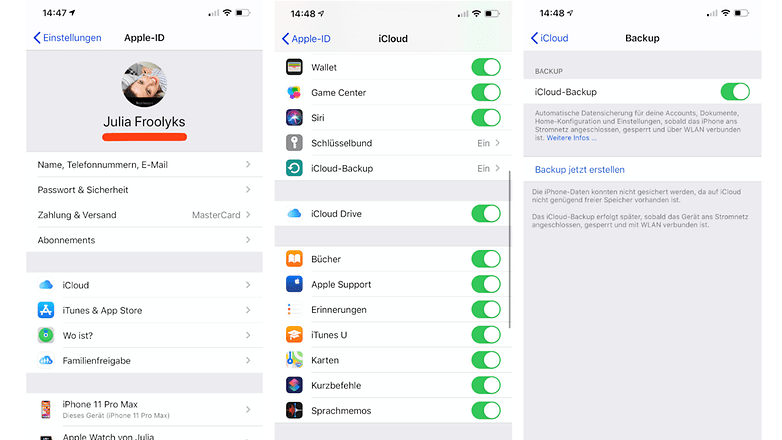 Here it is particularly practical that you can create automatic backups, for example at night when the device is charging. To turn on automatic backups, you need to press the "iCloud Backup" toggle in the same menu as described above so that it turns green. Your desired files will now be backed up automatically if the following conditions are met:
The iPhone, iPad, or iPod touch is connected to a power source
Connected to a Wi-Fi network
screen is locked
Do you want to save photos or create an Android backup? Right over here:
Other iPhone-related help topics: