"How do I connect my iPhone to TV?" is one of the most frequently asked questions from iPhone owners. Depending on the way, it is very easy to connect the Apple iPhone to a television, with or without cable. In this article, we will show what options there are to start iPhone screen mirroring.
Jump directly to:
There are several reasons why you might want to pair your iPhone with a TV, whether you want to see the pictures of your last summer vacation on the big screen or you want to stream movies and series. However, the Apple mobile phone can only be connected to the television with the help of additional software and hardware. We show you five options.
Connect iPhone to TV via AirPlay and Apple TV
My first choice for connecting my iPhone to the TV in the living room is my Apple TV 2. Of all the options, this is the easiest – the Apple ecosystem works very well for me. If you want to pair your iPhone with your TV, you don't even need the latest Apple TV.
You can often find the older generations used cheaply or on Amazon. Even the fourth generation of the Apple TV costs just under 150 euros on Amazon. So I'll add: It's not the cheapest method to connect your iPhone to TV and it's more cost-effective for those of you who also want to use Apple TV for Netflix, Apple TV+ & Co.
Once the Apple TV is set up and ready to go, pairing it with the iPhone is extremely easy:
Make sure your iPhone and Apple TV are on the same network
On iPhone, swipe down from the top right corner
On the left is the "Screen Sync" button
Behind it is the Apple TV: touch and the iPhone will be mirrored on the TV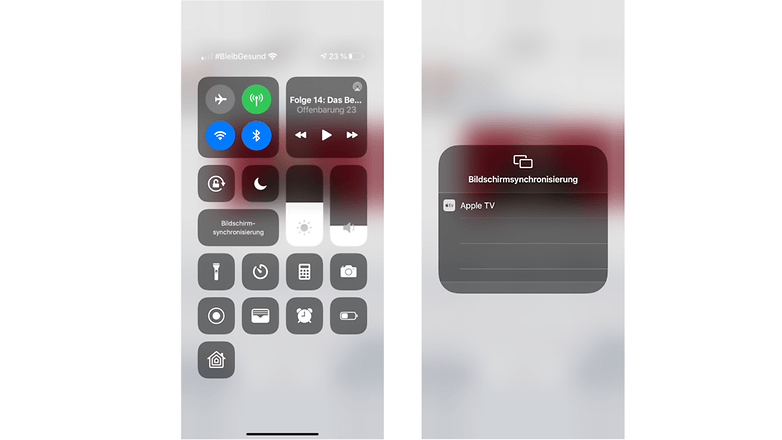 Connect iPhone to TV via Amazon Fire TV
Amazon's Fire TV is also suitable for connecting iPhone to television. Unfortunately, having a Fire TV Stick is not enough. In the Fire TV app store you will find the app called "AirPlayMirror Receiver", which you can try for free for 15 minutes. And it's also worth it, because the app is good for viewing photos on the TV, but not for streaming and playing videos. Picture and sound can freeze, making the entertainment experience a nuisance. But if you like the app, you can buy the full version for 4.63 euros.
Connect iPhone to TV via Google Chromecast
Anyone who already has a Google Chromecast or is considering getting one can also use Google's Cast Device to mirror their iPhone to TV. The Chromecast 3 is available from Google for just under 40 euros. And this is how the iPhone is connected to the TV through Chromecast:
Download the "Mirror" app from the Apple App Store
The app searches for Google Chromecast
Once the device is displayed, click on it
Start screen sharing
The iPhone screen will now appear on the TV.
(Do you know of any alternative apps for Google's Chromecast? Let us know in the comments)
Connect iPhone to TV: Wired
A super easy way to pair iPhone to TV is to use a Lightning HDMI cable. Apple's own cable is expensive. If you don't want to use an original Apple cable, you can find corresponding products on Amazon from 20 euros. I am going to list some of them for you below:
In the next few days I have decided to write you the most common iPhone problems and their solutions. By doing so, I focus on the problems that keep popping up around me. Do you have problems or questions with your Apple device that you could create a guide for? Let me know in the comments or send me a message.
Other useful iPhone themes: