Do you want to show WiFi password on iOS or Android? Below are several ways to read the network security key. Alternatively, there are also ways to share the password directly from one smartphone to another.
If you have a visitor or want to log into someone else's WLAN, you no longer have to type a long numeric code. Because both iOS and Android offer the option to conveniently display and share WiFi passwords. However, you can't always display WiFi password as plain text without additional apps. It is best to jump directly to the correct paragraph.
Straight to the correct paragraph
Although we try to keep our instructions as general as possible, there are always manufacturers and models where the following instructions do not work. But you will certainly find help in the NextPit forum or in the comments of this article!
Since Android 10, some devices have made it easier to read the WiFi password or share it via a QR code. Among other things, this is possible on Google's own Pixel devices, manufacturers Samsung and Huawei have also implemented it in more or less the same place. Just follow the instructions below: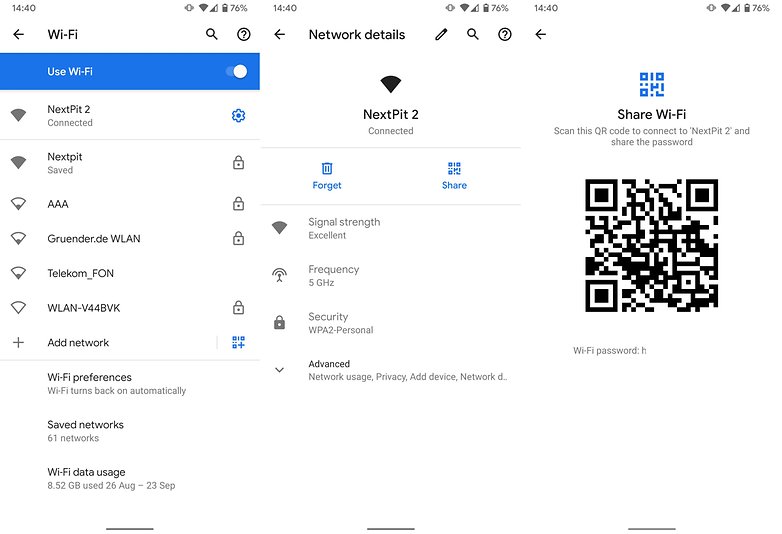 Check your phone's Wi-Fi settings
Select the connected WiFi network
Tap "Share" here and confirm your identity with a password or fingerprint
Now you will see a QR code that you can scan with the camera app of another cell phone
If you just want to read the number, with some models you can also directly see the full network security key and you can write or type it.
Many native camera apps support QR code scanning, and you can usually establish a connection directly. If this is not possible, you can also download a barcode scanner from the Google Play Store. These allow you to do something else!
In the Google Play Store you will find countless applications that promise to read WiFi passwords in no time. In short, I advise you for most of these applications: don't get down to business! Here you will find a number of spam applications and probably malware as well. It's much smarter to use the trick from the previous chapter.
Read WiFi QR codes using a barcode app
Because the QR codes that Android creates to share WiFi networks already contain the WiFi key and therefore can be easily decrypted again. There are many barcode scanners, I recommend "QR & Barcode Scanner" app because it has a lot of good reviews and has also been verified by Google Play Protect.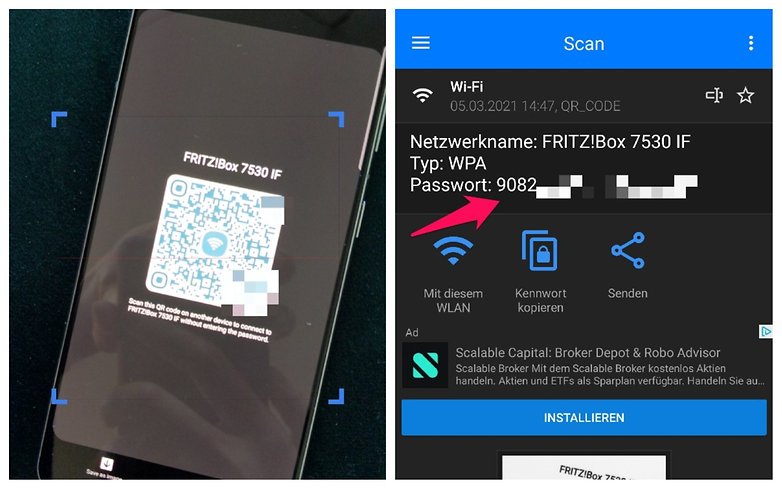 Simply read the QR code generated by Android with a barcode scanner
After scanning, the password will be displayed in plain text and automatically copied to the clipboard
If you don't have a second cell phone handy, no problem. You can also take a screenshot of the QR code and then scan it in the barcode scanner app. If you can't generate a QR code, you'll unfortunately have to use heavier artillery.
Show wifi password via app (Only with root)
Even if I warned you about WLAN reading apps at the beginning, there are also some white sheep among the crowd of spam and malware apps. However, the problem here is that they require root rights to use them. Although it is not too difficult to get root rights on your Android phone, this maneuver is not without risks.
If you have already rooted your Android smartphone or you love thrills, you can install "WiFiPasswords" or "WiFi Key Recovery" app. With the latter, you also have the advantage that you can also read saved WiFi passwords.
As long as you have root rights, WiFi Key Recovery app can also display your saved WiFi passwords.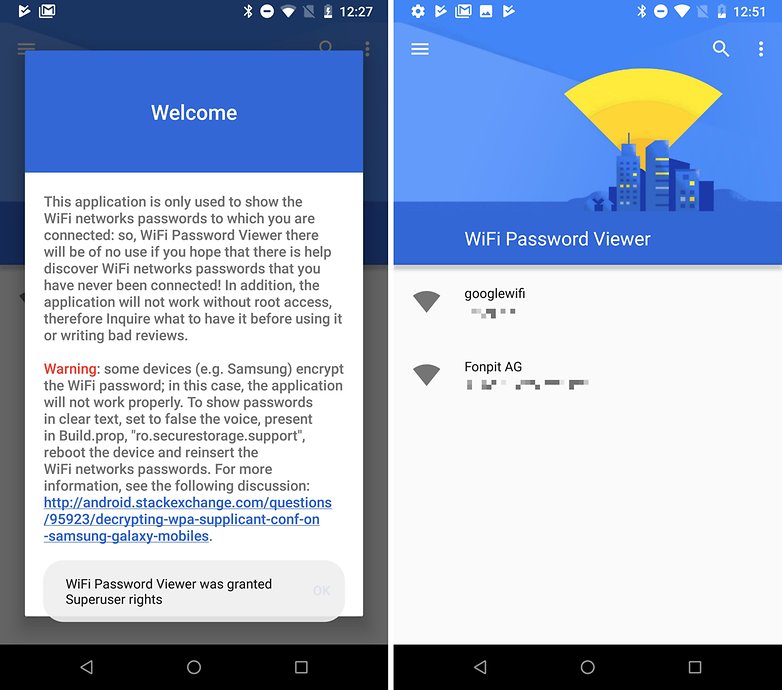 We have now exhausted all possibilities for most of the Android versions that are currently in circulation. However, you can remember that it can also read the WLAN passwords in the system files. What did you just say?
Even if Google connects WiFi passwords on Android to your Google account and stores them in the cloud, they were also stored on the device itself until Android 4.4.2. Since everything was stored unencrypted, you can simply use file managers to go to the correct files and read the data. The file path was:
/data/misc/wifi/wpa_supplicant.conf/
If you are still using an old Android cell phone or want to read a cell phone password in your drawer, you can give it a try. It just checks the right folder and ultimately the right file in a file manager and looks for the password there.
show wifi password on iphone
Devices with the same Apple ID
Unlike some versions of Android, there is no way to view WiFi password on iOS without additional device or jailbreak. However, you're in luck if you're using an iMac or MacBook. Because iOS stores security keys for known WLANs in the keychain, you can easily view them in macOS. The best way to do this is to type "keychain access" into Spotlight search.
Since WiFi passwords are stored on the iPhone in the Apple ID, they will automatically be available on all other Apple devices. Simply select a WiFi network on your iPad that is set up on a device with the same Apple ID.
Devices with different Apple IDs
A friend wants to log into your WLAN and can't think of the security key? So you don't have to read the password to give him internet access. Because you can share WiFi password. To do this, the other device only has to try to dial into the corresponding network. If you are within Bluetooth or WiFi range, a notification will appear on your phone where you can tap Share.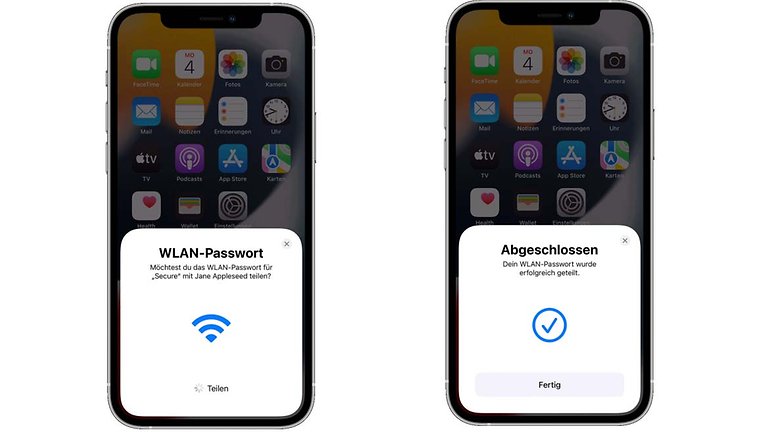 As a last resort to read WiFi passwords on iPhone, you can jailbreak your iPhone. However, this is a more complicated procedure and since you may lose your Apple device warranty in the process, we will not describe it here. It might be better to reset the router where you forgot WiFi password.
Do you have any other options besides reading the back of the router, how to read WiFi passwords on Android? Maybe you have an internal app suggestion that everything works with without root. Let me know in the comments and I'll include it below!
This article was revised on February 15, 2022 and sharing on iPhone was added. The comments were not deleted.