Have you bought a new mobile phone and are still hesitating to move because you are afraid of losing your savings? Not a problem, because in these instructions you will learn how to transfer and save your mobile game saves on Android and iOS. It will be quick too, I promise.
In this guide, we will show you how you can transfer save files to a new device on Android and iOS. It means that you can continue playing your mobile games exactly where you saved them on the previous device. So that you can quickly find the correct instructions for your device, here you will find the quick selection:
Transfer Scores on Android
Transfer Scores on iOS
Transfer cross-platform scores
By the way, many modern mobile games rely on online accounts anyway, where your progress is saved on the respective server. In this case, all you have to do is reinstall the game and log in with your credentials. If you want to be sure, just follow the steps below in this case.
Transfer scores on Android: this is how
Transfer Android saves without root
On the Internet, you are often directly advised to root your Android smartphone to transfer saved games. However, this is a fairly invasive procedure where a lot can go wrong. Before performing a root, you must first use the backup features of your cell phone.
We fold everything in detail in our guide on how to transfer data from phone to new devices. Basically, it is about transferring all the data from your cell phone to the new cell phone in one go. Important when it comes to scores: Never delete the data directly from the old cell phone, but check if the scores were actually transferred.
If you can't continue playing your mobile games where you left off, there is a solution even without root. However, this requires some manual work and a PC, but it's not really difficult with detailed instructions. The risk to the devices involved, the apps, and your warranty claim is also low.
The idea is to extract the saved games from the old phone's app data and restore them to the new smartphone. For this we use the backup and restore function of the Android ADB development tool. Here we go:
Transfer sheet music: the preparatory work
You must first install and activate the tools for the "Android Debugging Bridge" – ADB for short – on your PC. We've stored how to do this in our ADB tips and tricks:
Now you need to turn on USB debugging in the smartphone developer settings. It works like this:
You have to do the last step on both the old and the new device.
You also need to find out the Package ID of the game whose save games you want to transfer. The easiest way to find them is on the web version of the Play Store. In the URL of the post you will find the bundle ID of the application. For example in Thimbleweed Park:
https://play.google.com/store/apps/details?id=com.terribletoybox.thimbleweedparkandroid&hl=en
Once you've figured out the idea, you now need to switch to your computer.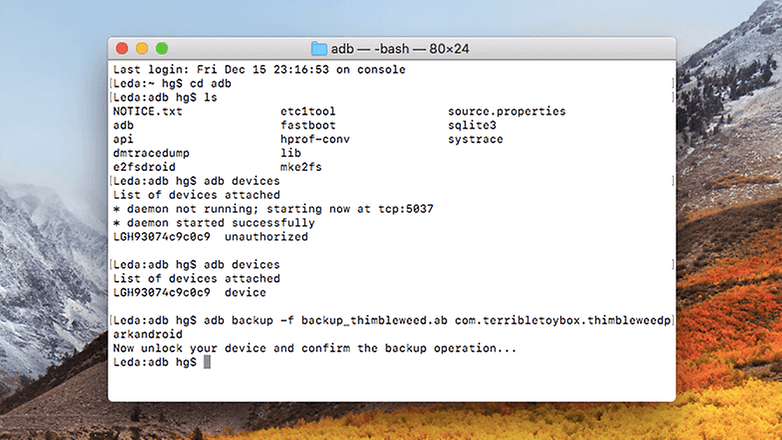 save game saves
Once this preparatory work is done, the real work follows. Now we transfer the old sheet music to the new smartphone. First we make the backup of the old smartphone or tablet:
Connect PC and old smartphone with USB cable
Launch the command prompt or a terminal on your PC
Change to the path where you installed ADB
Enter the following command: adb devices
Confirm the debug request on your smartphone
Do you see a device here? If yes, continue:
Next command: adb backup -f [Name für das Backup].far [PACKAGE_ID]
On the smartphone screen, you need to confirm the backup and possibly assign a password. The text of this message indicates a full backup, don't let that worry you: only the data or saves of the application or game are backed up.
You repeat the last command for all games and give each backup a different name. When everything is ready, you can disconnect the old device from the PC.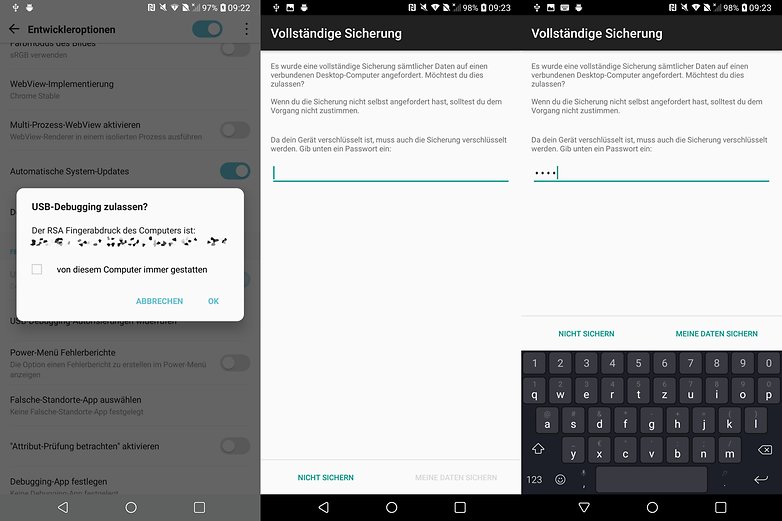 Restore saved games
Now is the time for recovery. First you install the game on your new smartphone. Then go back to the command prompt or terminal:
Connect the new smartphone to the PC
Launch the command prompt or a terminal on your PC
Change to the path where you installed ADB
Enter the following command: adb devices
Confirm the automatic debugging request on your new smartphone
Do you see a device here? If yes, continue:
adb restore [Name für das Backup].far
On the new smartphone, enter the backup password that you entered during the backup
Repeat the last command until you have restored all saves.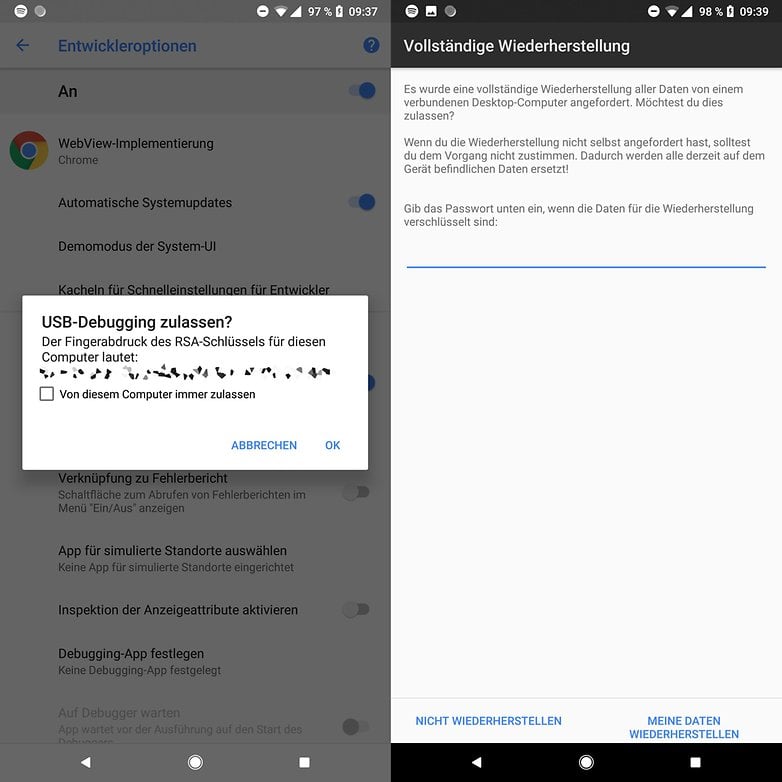 Basically, you can use this guide to backup scores and app data and transfer them to a new device. However, for apps, Android Auto Backup is the most promising way. And best of all, it works without manual intervention.
Quick root-based methods
Have you already rooted your phone or are you interested in it? Then you will find below the much more convenient root instructions to transfer saved files on Android. Alternatively, we offer you detailed instructions for smartphone rooting. Once the prerequisites (root!) are in place, all you have to do is install a backup app like Titanium Backup.
With this, you can simply create a backup of the entire mobile game and then move it to the new mobile phone memory. That is all! If all went well, you can continue playing the mobile game exactly where you left off. Again, the motto is: don't delete before you've seen success with your own eyes!
Transfer sheet music on iOS: here's how
Transferring saved files to your iPhone or iPad is quite easy. If you buy a new iPhone, you simply need to use the iOS backup feature when setting it up. This is handy anyway, as all your important data will end up on the new device.
Sheet music from "Apple Arcade" even syncs across multiple devices. So if you use a second iPhone or like to play mobile games on iPad, you can simply continue playing where you left off. If a game does not fall into this scenario, we can recommend "iMazing" software. In the free version, the scores can even be transferred to a second device. just do the following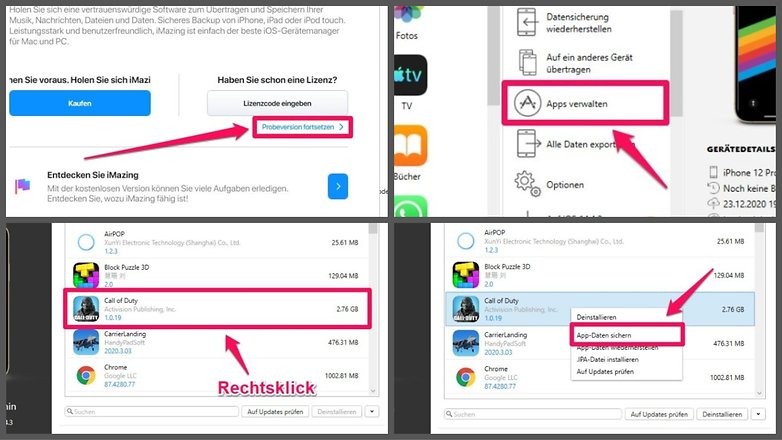 Download the free version of iMazing from the manufacturer's website
After installation, choose to use the trial version
Now connect your iPhone and select on its screen that you trust the connected PC
Back in iMazing, now go to the apps list and find the mobile game there.
Right click here and you will find an option called "Backup App Data". You create a file with the extension ".imazing" that contains all the game data.
Basically, just repeat these instructions with the new iPhone, but instead of "backup", select "restore".
iMazing software is a really powerful tool with many features. So take a look and think about what else you can use the program.
Transfer cross-platform scores
Some cross-platform titles can be played on PC and tablet or smartphone! Of course, this is great if you have an Android phone and an iPad. However, transferring your save from one device to another is not that easy. You should ask yourself two basic questions:
Do I have to buy the game multiple times? – Applications purchased from the Play Store, of course, cannot be transferred to the App Store
Does the game use its own online save game service? If so, you can automatically continue playing where you left off.
However, the problems start precisely when the scores of a mobile game are not synchronized through an online account. Because there is no perfect solution for all games in this case. Yes, there are titles like Stardew Valley where you can copy the save files to the game folder and drag them to another device.
However, this is not possible with other titles. Unfortunately, you have to play again on the new device until you have reached the same level, or google again for an individual solution. Of course, we're always happy to answer any questions in the comments!
So feel free to leave us a comment and tell us at the same time if this guide helped you!